Mini fridges are gaining a lot of popularity these days. The primary reason for the same is that they are pretty compact. As more people shift towards working from home, a mini-fridge with a lock is all you need. You can place it anywhere you want to without worrying much about the space.
People get confused about which mini fridge with a lock they should buy because plenty of options are available. If you are in a similar situation, you have come to the right place. We have prepared this article to guide you in selecting the best mini fridge with a lock.
Locking Door Mini Fridges Top Picks
1. Whynter CUF-210SS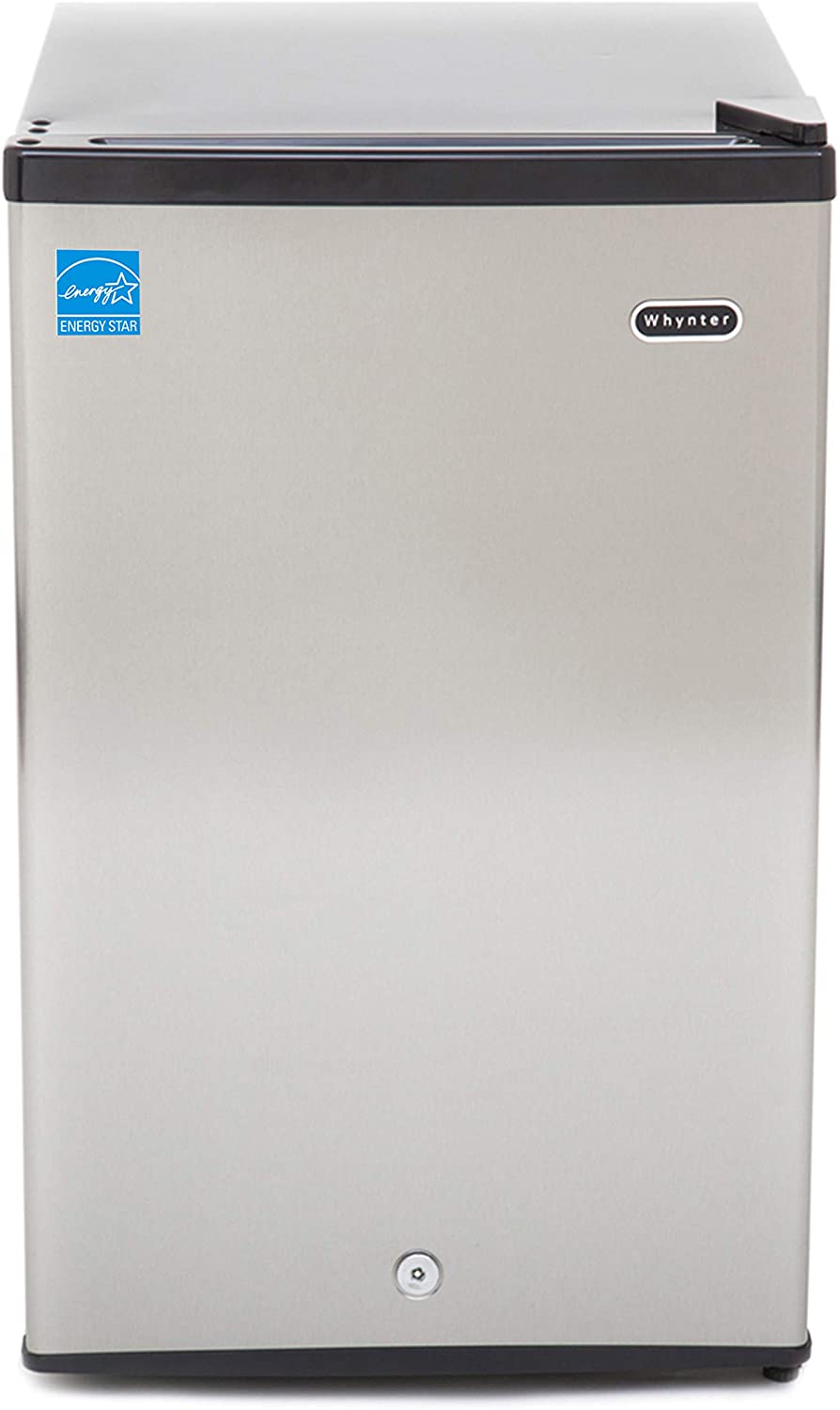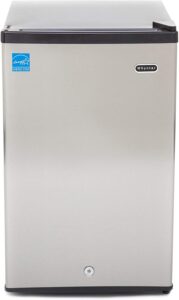 The first mini-fridge that comes on the list is the Whynter CUF-210SS. It is one of the most popular and best-selling compact-size fridges of all time. You have the freedom to store it in any small area of your room, office, kitchen, etc. The best thing is that it comes with a lock. So, you can protect your foodstuff from other people.
Whynter products are well-known for their quality and design. You will never be disappointed after getting this mini-fridge. Its design and colors are unique. That is why anyone can fall in love with it at first sight. Also, the company has made no compromise on the quality of the product. One can purchase it according to their preferences without blinking an eye.
Another thing that makes people want the Whynter CUF-210SS is that it also has an adjustable thermostat. You can turn it on quickly without any problems. It is an energy star mini-fridge, so you don't have to worry about your electricity bills.
Features:
It uses less electricity because it is an energy-star-rated appliance. Say no to high electricity bills.
The dimensions of the products are 22.5 x 19.75 x 29 inches.
Its storage volume is 2.1 cubic feet, and that is a plus point to buy it.
The noise level of the fridge is less than 45 dB. It means that you won't face noise issues while using the product.
It has a cylindrical lock along with two keys.
The total weight of the item is 47 pounds.
2. BLACK+DECKER BCRK17W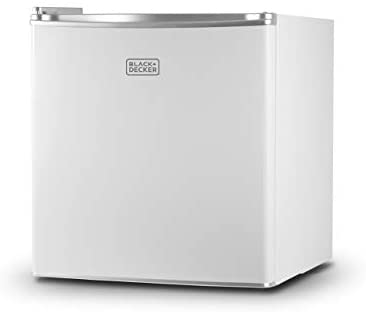 The following min refrigerator that comes second on the list is manufactured by BLACK+DECKER company. This product is fantastic according to the price. If you have become tired of searching for a mini-fridge with a lock, you can go for this one. Why? Because it has everything that one expects in a compact size refrigerator.
The most impressive thing about this mini fridge is that its storage capacity is ample. You can also remove the glass shelves present in it to increase the overall volume. One common problem that most users face is difficulty cleaning. If you purchase this BLACK+DECKER mini-fridge, you won't face this issue. The shelves in it are designed uniquely. So, cleaning is not at all challenging.
As for quality, you won't get a mini-fridge at this price range with exciting features. It is convenient to use. You indeed have many options, but this product has won many people's hearts because of its high-quality parts, convenience, compact design, and color.
The reversible door and adjustable legs are a plus point that you can consider before buying this item.  If you are still in a dilemma regarding it, you can read the features carefully.
Features:
It is excellent for people who want a suitable mini-refrigerator for their home or office. The dimensions of this refrigerator are 18.5 x 17.52 x 19.72 inches.
The overall weight is 33.1 pounds. So, we can say it is not too heavy.
It has a reversible door, and all the legs are adjustable. You can level the legs according to your requirements.
All the shelves are made of glass, and you can expand the storage by moving them here and there. However, it depends on you whether you want more space by this method or not.
The dimensions of the freezer are 8 x 2 inches which makes the freezer great for storing anything you want.
If you get irritated with noise within a short period, you must buy this refrigerator. It doesn't make any sound that can bother you. Its noise level is 45 dB.
It has a stylish design and color.
This energy-star-rated product will also help you avoid high electricity bills.
3. Whynter CUF- 110B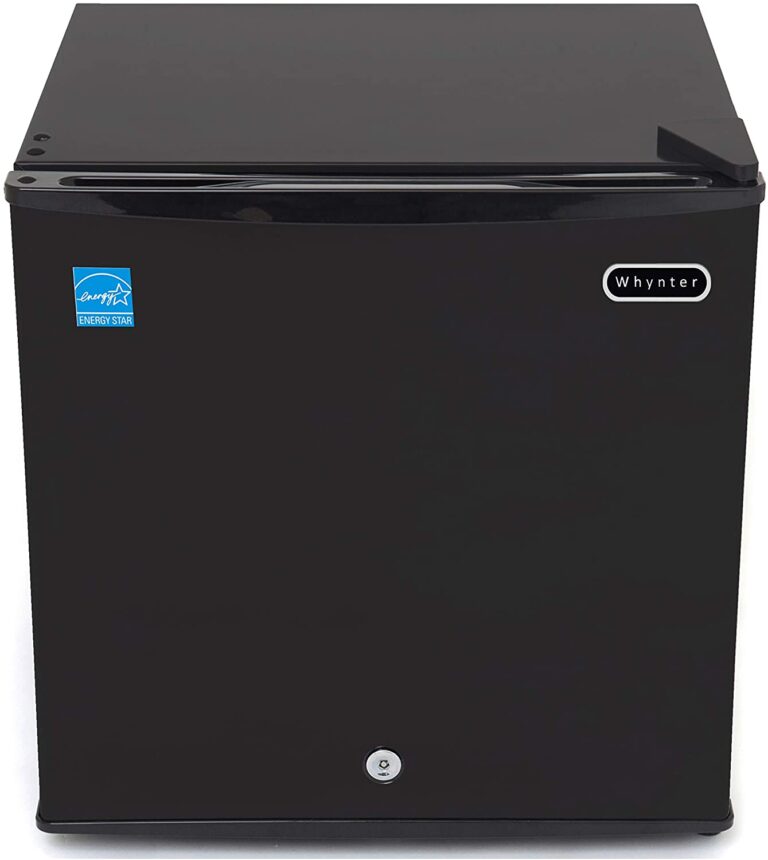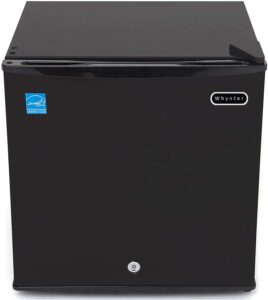 Do you want a fridge with a lock for a small room? If yes, Whynter CUF- 110B is the perfect option for you. As you know, Whynter uses excellent quality materials in its products. So, you won't regret choosing their compact size refrigerators at any point in time.
One of the best features of this item is mechanical temperature control. You can select the temperature you want by considering the season and other factors.
If convenience is what you are looking for, this mini refrigerator will give you everything. It has a reversible door. You can easily open it from any side to place or remove items. The lock is also there to keep your stuff safe. So, you can lock it with a key whenever you want to.
Many students and people living in a single and tiny room prefer this product because of its design, convenience, easy controls, and compact size. You can also consider this option if you are planning to move into a small apartment or room. It won't cover a lot of your space and give you all the things you expect from a refrigerator.
Features:
You will be astonished to know that Whynter CUF-110B conserves more electricity than any other mini-fridge. It is good news for everyone who doesn't want to waste their money on electricity bills.
The total weight of this mini refrigerator is 35.6 pounds.
Its storage capacity is also impressive, which is 1.1 cubic feet.
Your experience of using it will be exceptional as the fridge produces only 42 dB noise.
The reversible door feature will make your task of storing and taking out things from the fridge more manageable.
The dimensions of this mini fridge with a lock are 24 x 20.8 x 19.5 inches.
You can control the temperature of the refrigerator with a controller without any problems or issues.
4. Smad Portable Single Door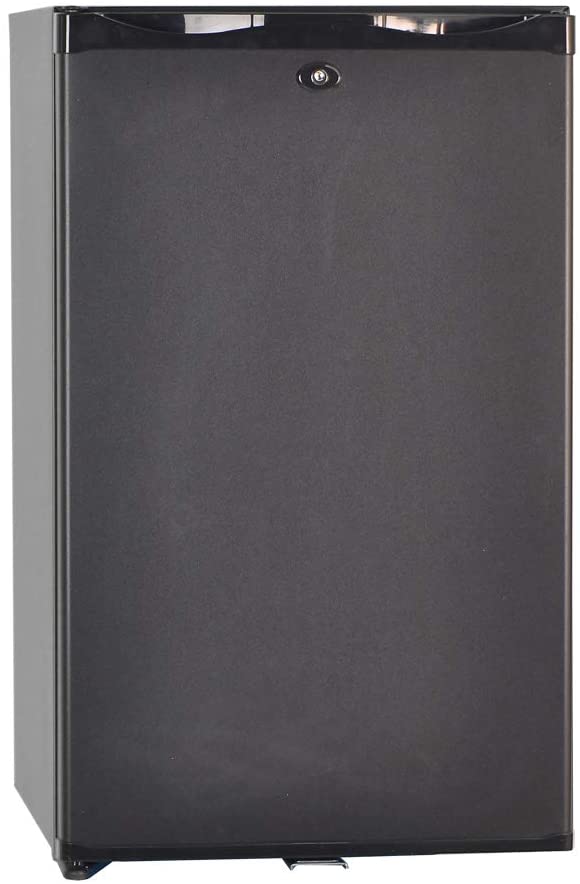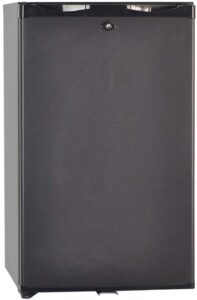 Smad is another famous brand known for its high-quality appliances. This product manufactured by Smad is fabulous in many ways. You will get everything you expect with this mini-fridge. We are saying this because it is the most silent refrigerator of all time.
You will be pretty surprised by the performance it offers to the users. As it is compact-sized, you can place it in your kitchen, room, office, garage, etc., without worrying much about the space.
Another benefit of purchasing this item is that you will get two power options- AC and DC. It depends on you to choose one according to your requirements. The shelves present in the fridge are removable. So, it will be easier for you to clean them, or you can also store a big thing by removing one shelf.
Features:
The dimensions of this mini fridge are 15/7 x 17/7 x 26.4 inches.
Its storage capacity is 1.7 cubic feet. It is good at this price range.
You will hear no noise because it produces only 1 dB of noise.
The company has also provided a reversible door to increase the convenience of using it.
The weight is 39 pounds.
It works with both AC as well as DC power.
All the glass shelves in the mini-fridge are removable.
You can move the product anywhere as the foot is adjustable.
5. Cooluli 10L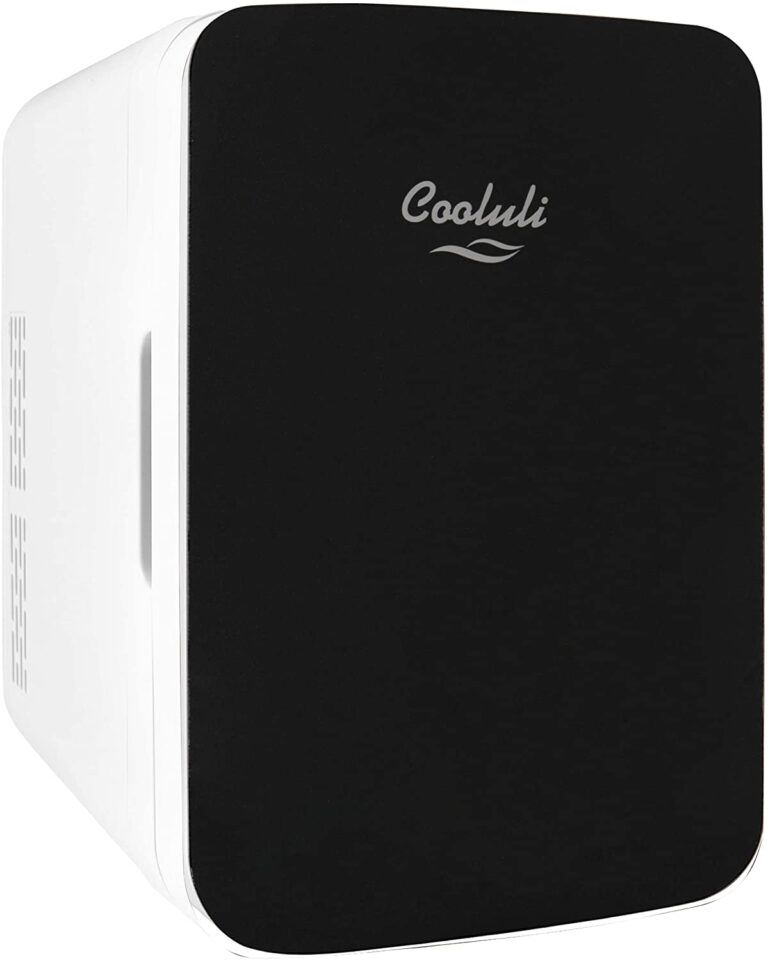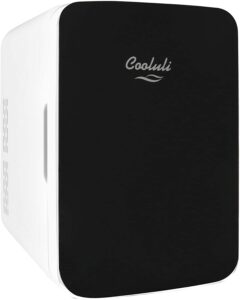 If you are searching for a unique mini-refrigerator with a lock, Cooluli might be the one for you. It offers many features like adjustable shelves, AC and DC power controls, good capacity, and more at a very affordable price. The size is small, making it perfect for small areas like the kitchen, room, or garage.
There is one fantastic thing about this refrigerator. You don't have to wait for so long to switch from cooling to warming mode. A separate switch is given for the same. Its cooling system is different from other compact fridges as it avoids frost. The body of this item is also meant for durability.
Features:
It is one of the lightest mini-fridges with a lock. Many people prefer it because of this feature as it weighs only 7.9 pounds. You can carry or take it anywhere easily.
The dimensions of this refrigerator are 11.4 x 10 x 13.4 inches.
Its storage is ten liters.
It has a switch to change from cooling to warming.
You will get both AC and DC power controls with this refrigerator.
It does not consume a lot of energy. So, you can avoid spending your money on electricity bills.
It has removable shelves that help make cleaning and storing easier.
Buyer's Guide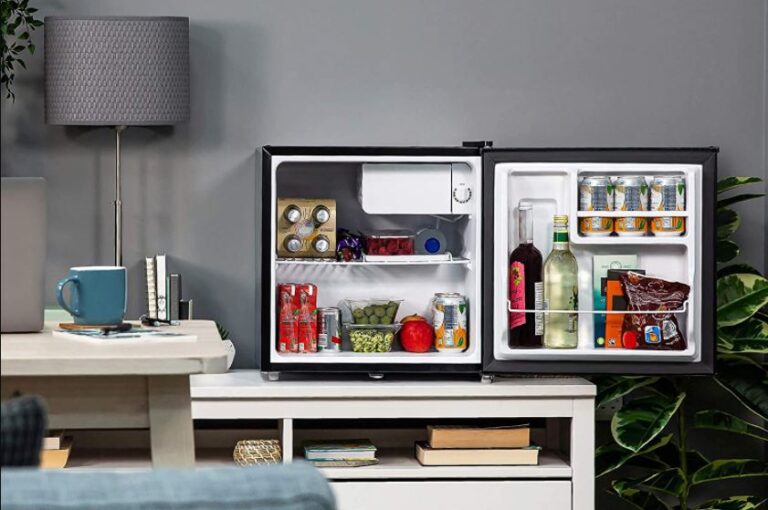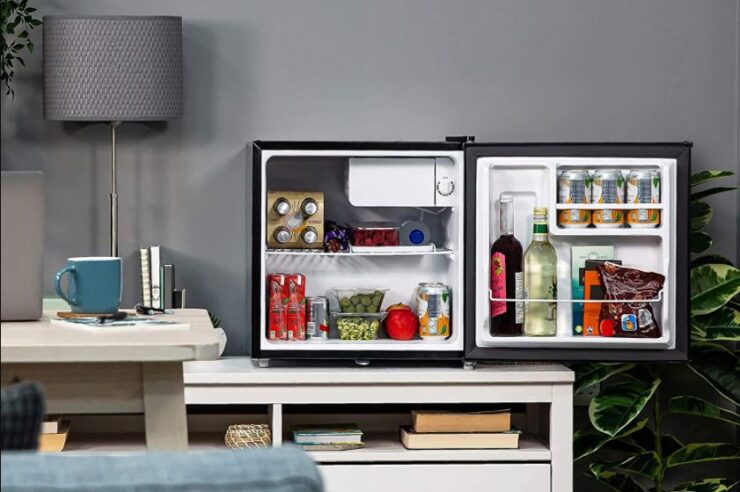 There are some things that every person needs to consider when buying a mini-fridge with a lock. Otherwise, you will get confused between various options. Here are some points that will help you make the right choice.
Size
The first thing you need to look at is the size. You should first understand how much space you can give for placing the refrigerator. Some people want refrigerators suitable for a kitchen, while others want to put them in small rooms.
The size also depends on the things you wish to store in them. For instance, if you want it solely for drinks or baby bottles, a mini-refrigerator of small size will be suitable.
Adjustable Shelves
There are plenty of benefits of adjustable shelves. You can remove them to increase the space or make the cleaning purpose easier. So, you should always go for removable ones. But again, it depends on your preferences and needs.
Door Type
Another significant thing to look for when buying a mini-fridge with a lock is the type of door. You will find three types of doors- a reversible door, a single door, and a double door. All of them are suitable for different things.
Like, a reversible door provides more convenience to the user than a single or double door. That is why people like to buy mini-refrigerators that have reversible doors.
Noise
Sometimes, people forget to check the noise level of the refrigerator while purchasing it. You should not make this mistake because every mini fridge has different noise levels.
Locks
Locks are responsible for safety and security. So, always make sure to check the quality of locks before deciding on one.
Warranty
Does the company offer one or more years of warranty? It is also essential as you don't have to spend additional money on repairs or faults within the warranty period. Therefore, you must always select a company which will give you this benefit.
FAQs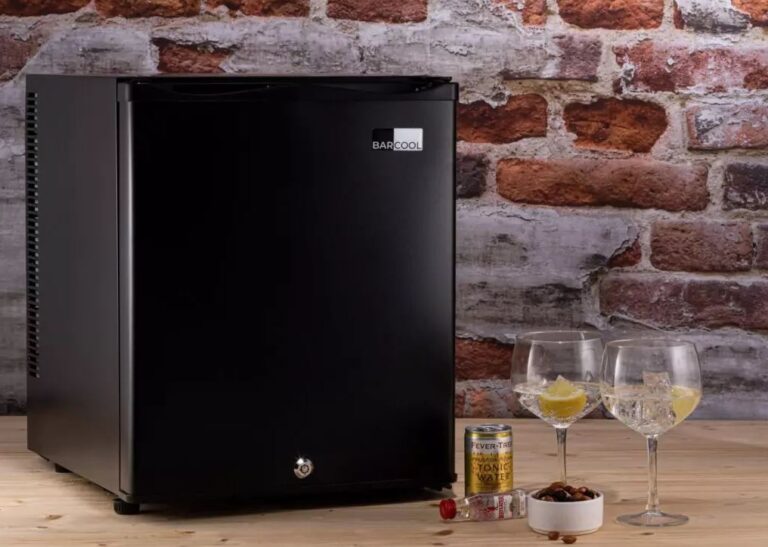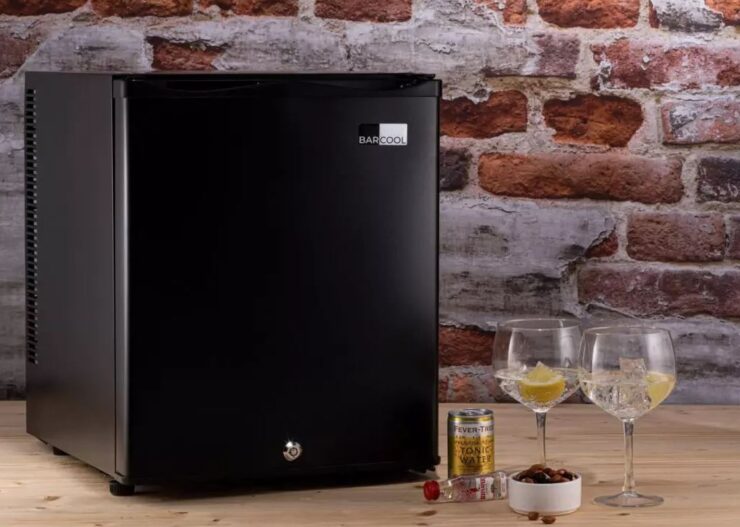 Does a mini-fridge need a stabilizer?
You don't need a stabilizer for your mini fridge because it uses less power. Stabilizers are necessary if the power fluctuation is more than 160V.
Should you buy a mini-fridge with a lock?
Well, it depends on your preferences. Locks in refrigerators are essential as they ensure the security of the items stored in them.
Are mini-fridges with locks worth it?
The best thing about them is that you can place them anywhere. As they are compact, you don't have to spare a lot of space.
Conclusion
Buying a mini-fridge with a lock seems like an arduous task, especially for those purchasing it for the first time. The main reason for this is that one has plenty of options.
Many companies provide unique, stylish, and durable mini-refrigerators with locks. But you have to find the best company among all others.
You can do this by considering some essential things mentioned above. We hope now you can choose a suitable one between various variants within a short period. Happy shopping!
Take a look at these mini-fridges also: