Do you have a drawer in your kitchen, office, bathroom, or tool shed that drives you mad from disorganization? Are you looking for a solution to declutter a messy drawer? If so, you may need a flatware organizer.
The  flatware organizers can do more than sort your utensils. These drawer inserts can quickly declutter, creating easy access to flatware, knives, makeup, tools, school supplies, or office essentials. But finding a flatware organizer for your specific needs can be a bit of a trick.
Check out our comprehensive guide of the best flatware organizers for tidying unsightly drawers.
Best Pick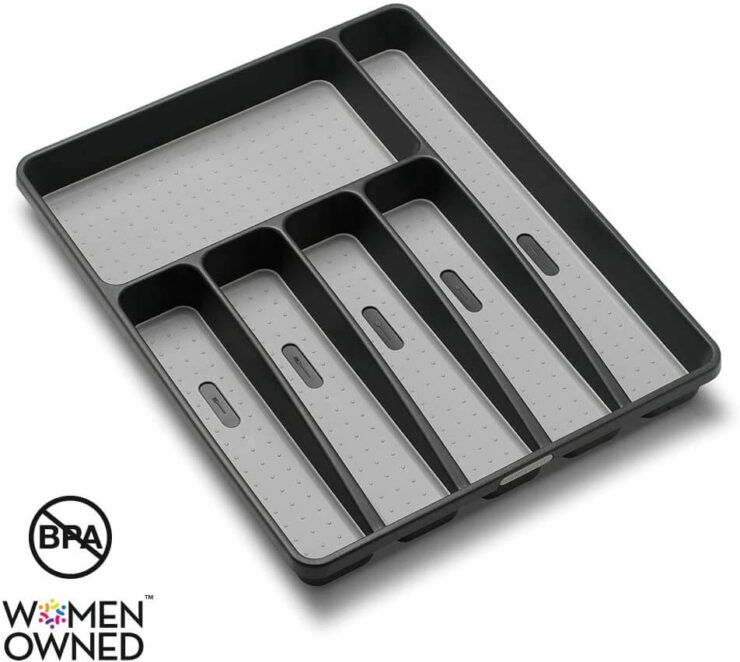 The Madesmart Classic Large Silverware Tray is our best pick for flatware organizers because it was designed for maximum durability and functionality with its easily adjustable compartments and no-slip lining.
Budget Pick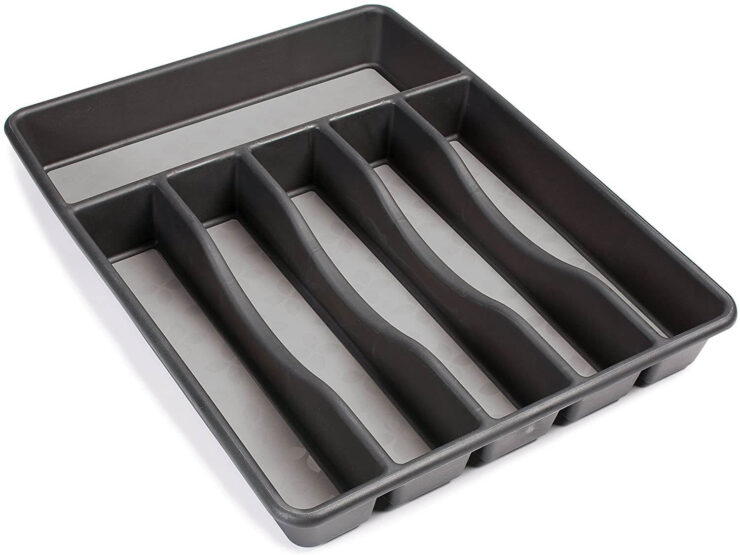 The Rubbermaid No-Slip Large, Silverware Tray Organizer is our budget pick because it has the highest quality and durability for the best price as well as being dishwasher safe.
Quick Comparison: Top 10 Flatware Organizers
1. Madesmart Classic Large Silverware Tray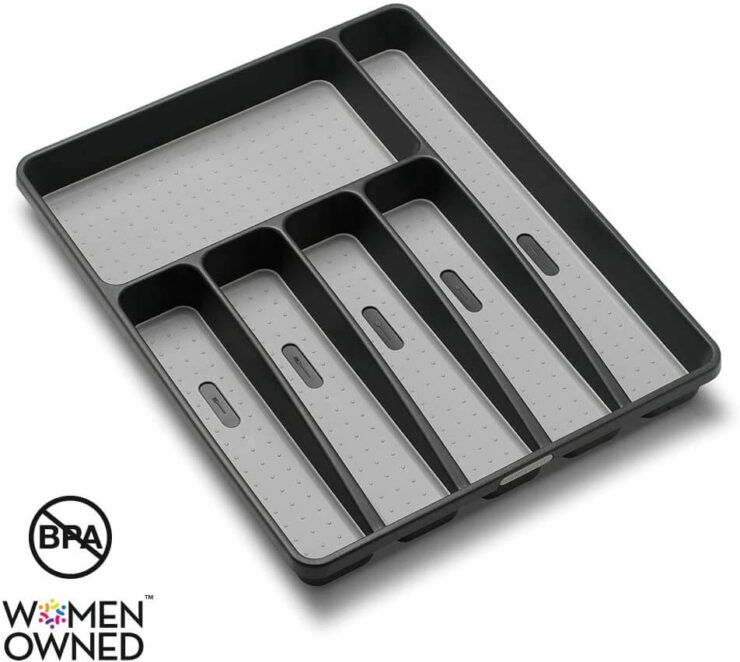 Highlighted Features
Six compartments for large silverware
The soft-grip lining protects silverware
Branded icons for drawer organization
Rounded corners for easy cleaning
Non-slip rubber feet prevent the tray from sliding in the drawer
Designed to fit in any kitchen drawer, the Madesmart Classic Large Silverware Tray has six icon-labeled compartments for easy silverware organization. The attractive design has rounded corners and soft-grip interior lining, making it easy to clean and very functional.
Made from BPA-free, high-quality plastic, the Madesmart Classic Large Silverware Tray is very durable and comes in three colors: grey, teal, and white. Its dimensions are 16. 00 L x 12. 90 W x 1. 87 H in, conveniently sized to fit most kitchen drawers.
While most individuals love that the organizer is sturdy and attractive, the organizer doesn't hold as many larger utensils. And the compartments don't accommodate odd shaped kitchen tools and silverware.
Pros
Well made with a functional design
Can fit large silverware and utensils
Easy to clean
Cons
Doesn't hold a lot of large utensils
Not dishwasher safe. Hand-wash only.
2. Rubbermaid No-Slip Large, Silverware Tray Organizer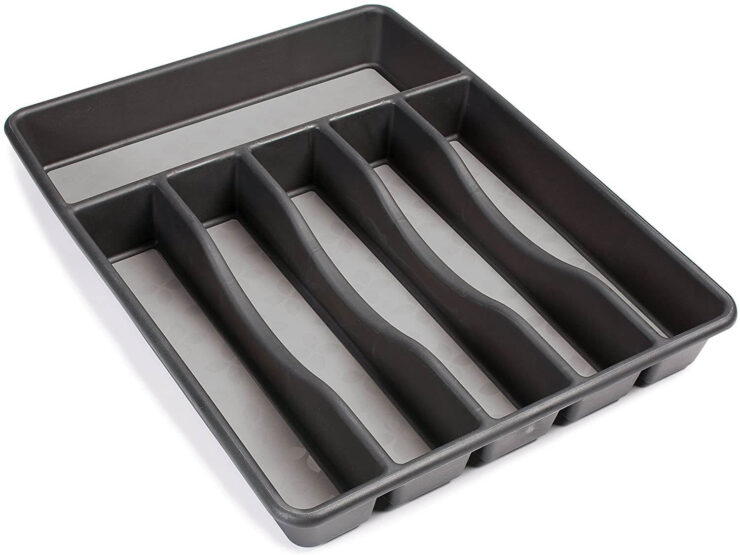 Highlighted Features
Five large slots
Two expandable trays
No-slip base keeps tray in place
Durable plastic that is dishwasher safe
A popular flatware organizer, The Rubbermaid No-slip, Large Silverware Tray Organizer is a durable, attractive design for a great price. The tray also has two expandable trays for customizable storage in addition to the five large slot compartments.
Made from durable dishwasher safe plastic, the no-slip tray won't warp, and it is easy to clean. Its dimensions are 15 x 11.75 x 1.75 inches. The tray only comes in one color of black with gray inserts.
Because this is a large flatware organizer, it can hold between sixty to seventy utensils. This is particularly great if you entertain a lot. But you'll want to measure your drawer before you buy to make sure this organizer fits within your desired space.
Pros
A trusted brand for quality products
High quality for an affordable price
Can wash in the dishwasher
Cons
May be more prominent than some drawers
May slip when the drawers are pulled quickly
3. Bellemain 100% Pure Bamboo Expandable, Utensil Organizer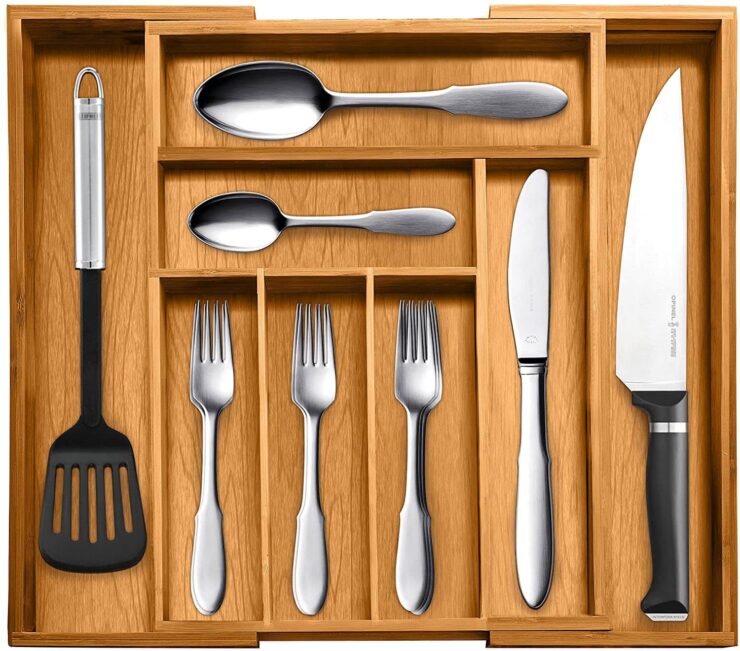 Highlighted Features
100% Pure, fully mature bamboo
Eight compartments for optimal organization
Two expandable compartments
Sustainably harvested bamboo
Buy-back 2 year guarantee
Made from fully matured bamboo, the Bellemain 100% Pure Bamboo Expandable Utensil Organizer is solid choice for people who prefer a wood utensil organizer. Of the five bamboo organizers on our list, this is by far our favorite because of the thick, clean construction and variety of compartment sizes.
A beautiful natural finish, this flatware organizer has eight compartments with thick dividers. And two of the trays are expandable to fit tight inside your drawer or accommodate your utensils' needs.
The wood organizer is made from sustainably harvested bamboo. Its dimensions are 17.99 x 13 x 2 inches, and the expanded compartments can be extended to fit most drawers. The organizer can be cleaned using soap and water.
Pros
Beautifully designed bamboo wood
Lots of compartments for organization
Very durable for daily use
Cons
Can slide inside the drawer
Hand wash with soap and water
4. Royal Craft Wood Bamboo Kitchen Drawer Organizer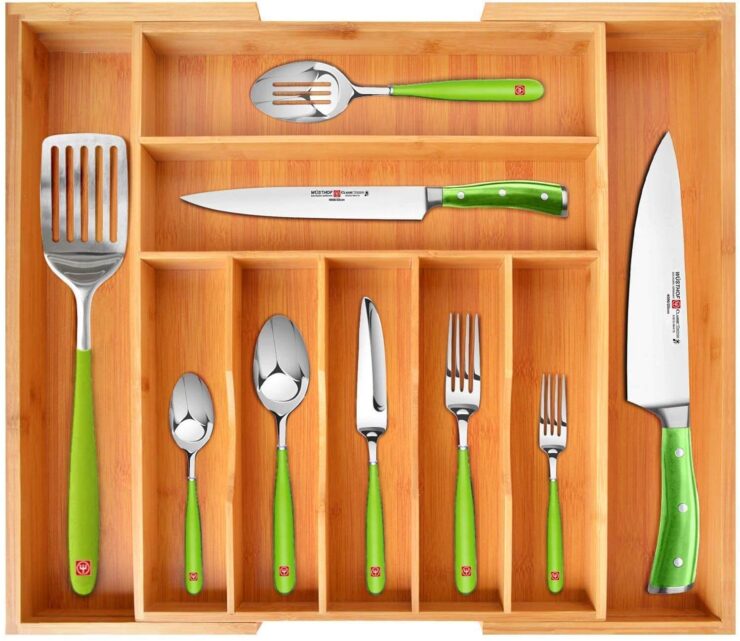 Highlighted Features
Nine deep organizational compartments
Two expandable compartments for a custom fit
Grooved drawer dividers
Reinforced base to ensure durability
Come in four colors to match kitchen aesthetic
The Royal Craft Wood Bamboo Kitchen Drawer Organizer is another well-made bamboo flatware organizer. It has nine organization compartments, of which two compartments are expandable so you can custom-fit the organizer to your kitchen drawer.
Known for impeccable quality, the Royal Craft Wood Bamboo Kitchen Drawer Organizer adjustable compartments don't shift or shrink when the drawer is opened or closed. This is a definite plus being that many organizers struggle to maintain their desired expansion size.
Made from sustainably grown bamboo, the organizer is 18 x 13.9 x 2.7 inches to fit in most kitchen drawers. It comes in four colors: natural, black, gray, and white, to blend with your kitchen's interior design. To clean, wipe the organizer with a damp cloth.
Pros
High-quality, sturdy wood
Expands readily to fit snugly in the drawer
Deep wide compartments can hold different shapes and sizes
True to size
Cons
The glossy finish can scratch after extended use
Hand wash only
5. OXO Good Grips Expandable Utensil Organizer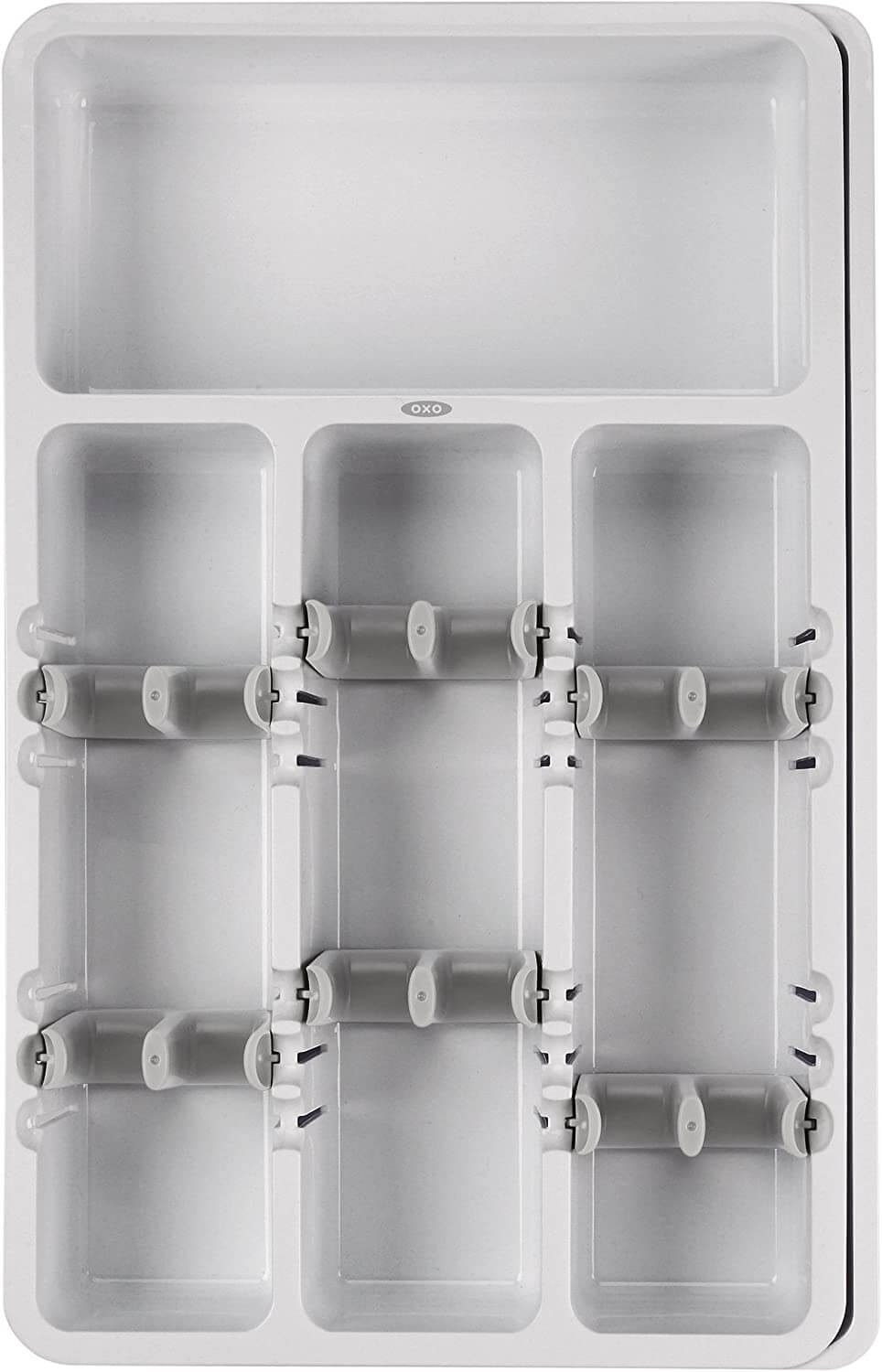 Highlighted Features
Adjustable and removable dividers to fit most shapes and sizes
Expandable compartments to fit most kitchen drawers
Stay-put design hold utensils in neat stacks
Non-slip feet to keep it from shifting in the drawer
Designed for maximum efficiency and storage, the OXO Good Grips Expandable Utensil Organizer is a great flatware organizer for small kitchen drawers.
It has five storage compartments and one is expandable to fit larger utensils. Dividers stack the silverware in opposite directions within each chamber to take up less space. This allows the organizer to hold more utensils than other organizers.
Made from durable, dishwasher-safe plastic, the organizer comes in two sizes with a length of 9.75 in or 15.5 in. The 9.75-inch organizer can expand to 16 inches. It comes in two colors: white and gray.
Pros
Narrow design fits in smaller drawers
Raised dividers can hold more utensils in each compartment
Non-slip feet work really well
Can wash in the dishwasher
Cons
May not hold as many uniquely designed utensils compared to basic.
May slide a little in larger drawers.
6. Totally Bamboo Expandable Drawer Organizer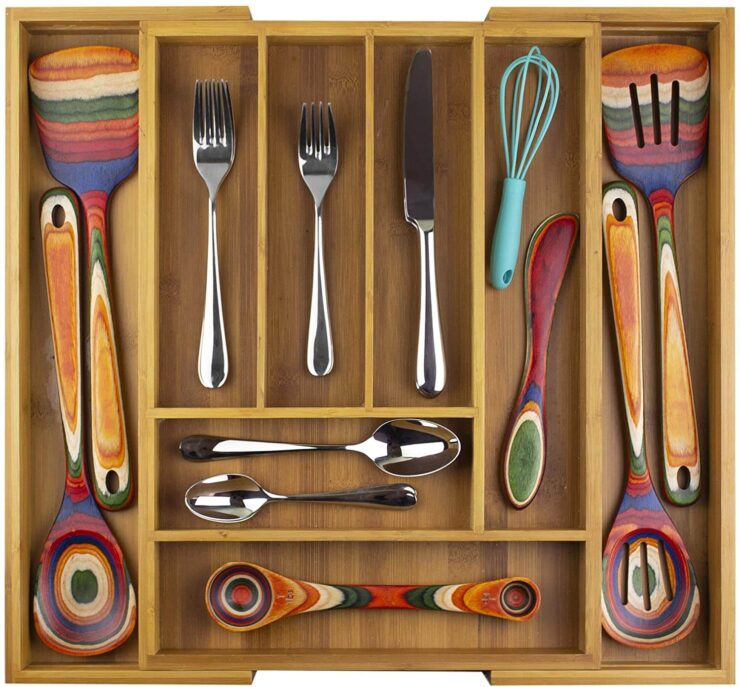 Highlighted Features
Fiberboard base
Eight compartments of varying sizes
Two adjustable compartment trays to expand inside the drawer for a snugger fit
Robust and efficiently designed, the Totally Bamboo Expandable Drawer Organizer is great for separating large flatware. Equipped with eight compartments of different sizes where two are expandable to fit inside most drawers, the bamboo organizer is lightweight but reliable for daily use.
The variety of compartments allows for a variety of utensils. However, this organizer may not be the right size for smaller drawers. And inside huge drawers, the organizer can slide with use, sometimes knocking the dividers loose.
The bamboo organizer has a fiberboard base for extra reinforcement. Bamboo is an excellent material because it is a renewable wood, and it is gentler on utensils than plastic. The dimensions are 18″ L x 12-3/4″ W x 2″ H in. To clean, wipe the organizer with a damp cloth.
Pros
Big enough for larger flatware
Eco-friendly wood
Very sturdy construction holds up for daily use
Expandable compartments slide easily
Cons
May be too big for some kitchen drawers
When not snugly fit, expanders can shift occasionally
Hand wash only
7. Pipishell Bamboo Expandable Drawer Organizer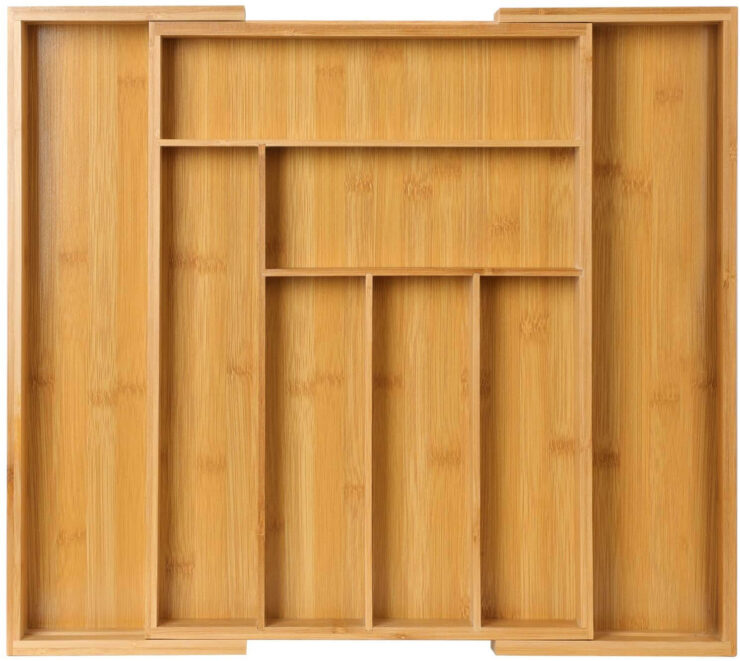 Highlighted Features
Deep slots for larger utensils
Made from organic bamboo wood
Eight compartments with two expandable
Made from organic bamboo, the Pipishell Bamboo Expandable Drawer Organizer is an eco-friendly  flatware organizer. Bamboo is fast-growing, renewable, and sustainable wood, which is ideal for storing kitchenware.
Its thick and sturdy construction makes it one of the heavier bamboo organizers on our list. But the weight also keeps it in place when a drawer is open or shut. Be mindful that this organizer is one of the largest on our list and may not fit all drawers.
The organizer has eight compartments with two expandable side compartments for an optimal fit. The compartments are varying sizes to accommodate different flatware. The dimensions are 16.93 x 12.91 x 1.89, and it weighs almost four pounds. To clean, wipe the organizer with a damp cloth.
Pros
Great for large kitchen drawers
Very durable thick wood
Beautiful design
Can hold longer utensils like chopsticks
Cons
Won't fit in small drawers
Has sharp corners
Heavier than most organizers
8. BAMEOS Utensil Drawer Organizer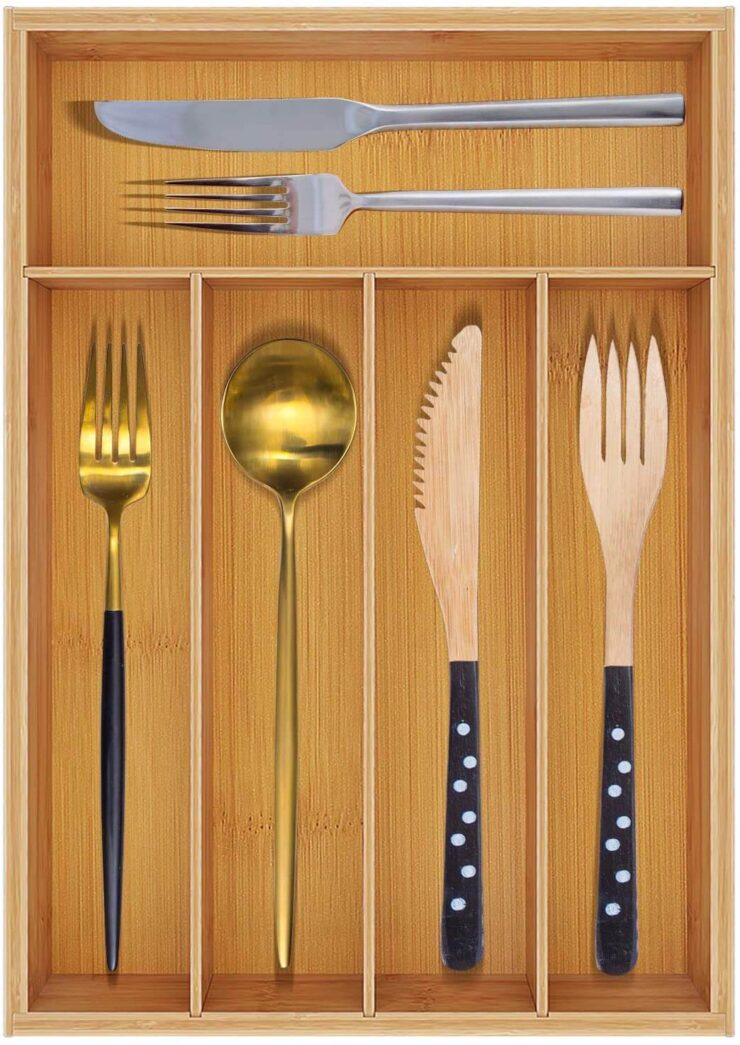 Highlighted Features
100% pure, organic bamboo with a natural finish
Food-safe finish
Five to nine compartments
Two expandable trays with the larger organizers
A uniform design, the Bameos Utensil Drawer Organizer, has clean, simple lines and is made from 100% pure bamboo. It has a natural finish for a pleasing aesthetic. And its solid wood construction makes it durable for everyday use.
This organizer comes in four different sizes ranging from 9.75 in wide to 22 in wide. By offering different sizes, one of these should fit inside your desired drawer. The organizer is 1.96 in H to fit comfortably into most drawers.
The two smaller drawers have five compartments and the two larger organizers have nine total compartments with two adjustable. Wipe clean with a damp cloth when dirty.
Pros
Thick dividers for extra strength
Attractive design with tight, square corners
Adjustable compartments aren't flimsy and slide easily
Eco-friendly, renewable wood
Cons
Dividers can come loose after a lot of use
Hand-wash only
9. Madesmart Classic Mini Silverware Tray  
Highlighted Features
Five compartments with no-slip lining
Non-slip rubber feet
Made from thick BPA-free light plastic
Rounded-corner design for easy cleaning
The Madesmart Classic Mini Silverware Tray is the miniature version of our first pick on this list of best flatware organizers. This is an ideal organizer for smaller drawers in your kitchen or bathroom. Its clean, simple lines are both attractive and functional.
You have the same great features as the classic with five uniform compartments, soft-grip lining, and non-slip rubber feet. The non-slip rubber feet keep the organizer from shifting when the drawer is opened or closed. The soft-grip lining keeps items from shifting within the compartment.
The organizer is made from BPA-free plastic and comes in white with light gray compartment lining. It also has rounded corners for easy cleaning. Its dimensions are 12.75 L x 9.00 W x 1.88 H in.
Pros
Designed specifically for small drawers
The soft-grip lining makes it easy to pick up items
High-quality for a great price
True to size
Rounded corners make it a cinch to wipe clean
Cons
Doesn't hold a lot of silverware
May be too small for large utensils
10. Joseph Joseph Drawer Expandable Cutlery Tray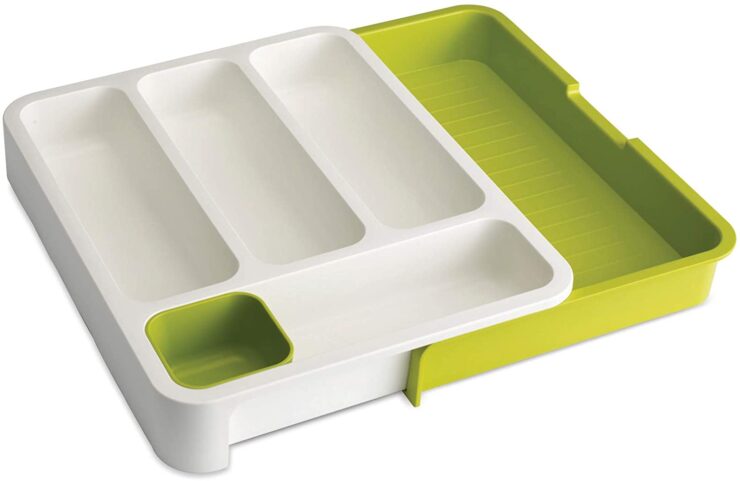 Highlighted Features
Five deep-sided compartments
Small square, removable storage dish for smaller items
One large expandable tray
Rounded-corner design for easy cleaning
While the Joseph Joesph Drawer Expandable Cutlery Tray is specifically designed for sorting cutlery, it's functional design makes it a great organizer for other storage needs like tools and makeup.
A unique design compared to some of the other flatware organizers, the Joseph Joseph Drawer Expandable Cutlery Tray has one large sliding compartment to custom fit inside your drawer. It can expand from twenty-nine to forty-eight inches. It also has a small removable dish for tiny items.
The thick plastic organizer comes in two-tones of green and white, or dark gray and white. The cutlery tray is 14.57 x 10.94 x 2.09 inches, which is small enough to fit in most drawers. And its rounded-corner design makes it easy to wash by hand.
Pros
The large expandable tray can hold unique and large shaped items
Very sturdy thick plastic
Won't damage the cutlery
Cons
May be too wide from some drawers
Hand-wash only
Things to Consider Before Buying This Product
When looking for a flatware organizer, there are a few things you need to do before you buy:
Measure Your Kitchen Drawer
This is critical. Not all flatware organizers are the same size. And while many offer expandable compartments for a tighter fit, the organizer may not fit inside your drawer. You'll want to get exact measurements before researching which flatware organizer to get.
If you don't measure your drawer, the organizer may be too small and can slide around easily within your kitchen drawer. If the organizer is too large, you won't be able to get inside the drawer, or the drawer won't close if it is too tall.
Determine Compartments Needs
Some flatware organizers can be used for other items instead of utensils. Many people use them to sort:
Junk drawers
School supplies
Makeup
Tools
The organizer's handy compartments sort your draw into neat, easy-to-use categories. This is the one area where flatware organizers have some differentiation:
Compartment Size
Depending on the organizer, the compartments can be uniform in size and shape, or they can be varied. Adjustable compartments also play a factor because these can be expanded to fit the drawer and accommodate larger items.
You'll want to decide how your organizer will be used and whether it makes more sense to have different size compartments or uniformity.
Number of Compartments
Organizers can have as few as four compartments or as many as ten. You'll need to decide how many sections make sense for the items you plan to sort within the same drawer. You may find more isn't always better.
If you need more than ten compartments, you may want to consider buying two organizers. If you do, be sure to measure your drawer to see if it can fit two organizers.
Decide Which Features Are Most Important
The flatware organizers have several common features. Many of these features affect durability and functionality. You'll want to decide which of these features are must-haves for your organizational needs.
Durable Material
Theflatware organizers need to be made of durable material that can handle daily use. Most organizers are made of plastic or wood. But the types of wood or plastic used need to be high-quality.
Plastic
The best plastics for flatware organizers need to be non-toxic and thick in construction. Plastic flatware organizers, while not as attractive as wood, have several benefits:
Often come in a variety of colors to match room decor.
It can be easily cleaned in a dishwasher.
Don't splinter or break from use.
If functionality is your priority or your organizer needs to be cleaned often, you'll want to consider a plastic flatware organizer.
Eco-friendly Bamboo Wood
If you're more environmentally minded or prefer the beautiful look of wood, then you'll want an organizer that is made from bamboo. Bamboo is a sustainable, renewable resource that can be easily grown. More durable than oak, bamboo is a sturdy material for everyday wear and tear.
Bamboo is also gentle on cutlery and utensils. While the wood is strong, it is more forgiving than plastic that can scuff or dull utensils. If aesthetic or eco-consciousness is important to you, you'll want to buy a bamboo organizer.
Keep in mind that bamboo flatware organizers tend to be more expensive than plastic. While still reasonably priced, bamboo organizers can be two to three times more expensive.
No-slip Feet
No-slip feet are the silicone-padded stays under the flatware organizer that hold the organizer inside the drawer. These are particularly important for large drawers where the organizer doesn't fit snugly inside.
The non-slip feet anchor the organizer to the draw so that it doesn't slide around every time the drawer is opened. This way, the organizer stays in place even if it isn't very full.
Soft-grip Lining
Soft-grip lining is a less common feature but offers added protection for your items being stored. The rubber lining covers the base of each compartment to keep items from scratching or shifting when the drawer opens.
Some soft-grip linings can be removed for easy cleaning, while other linings can be wiped with a damp cloth. This is particularly helpful for small items that roll or shift easily when a drawer is pulled.
Adjustable Compartments
Adjustable compartments are a common feature of  flatware organizers. These are easy-slide compartment trays on one or both sides of an organizer. By gently pulling, you can extend the side compartment to:
Fit snugly within your drawer so that the organizer won't slide or shift during use.
Accommodate larger utensils or items that don't fit in the smaller compartments.
Add or decrease the compartments to fit the needs of the drawer.
Adjustable compartments are customizable solutions for individuals who may need some flexibility in their drawer's organization.
Dishwasher Safe
Not all flatware organizers are dishwasher safe. In fact, most bamboo organizers are hand-wash only to preserve the wood. For drawers that tend to get dirtier like a makeup drawer or tool shelf, then you may want to consider a dishwasher safe flatware organizer.
Flatware organizers that are hand-wash only can sometimes be difficult to clean in the corners. If you choose a hand-wash utensil tray, you may want a rounded-corner design for easier cleaning.
Areas You Can Declutter Using a Flatware Organizer
While flatware organizers are traditionally designed to sort silverware, many people use them to keep other drawers more organized in their home. According to Psychology Today, clutter can negatively impact your feeling toward your living space and ultimately diminish your happiness.
To keep a positive vibe and home, here are some areas you can declutter by using a flatware organizer.
Kitchen
The kitchen can become a black hole of disorganization if left unchecked. And yes, these organizers are great for separating eating utensils, but you can also use these functional trays to sort:
Cutlery
Baking tools and measuring cups
Spatulas and Large Spoons
Spices
Specialty kitchen tools
Some people even put more than one organizer in a drawer to double the compartments. This makes cooking tools and utensils more readily available and keeps the drawers tidy.
Keeping your utensils organized is even more important if your kitchen is also used in your work. Many cooks and bakers try different new recipes at home, as well as those who work remotely and prepare homemade dishes and sweets. In case you also think of joining the lucky ones who can cook and make money from it, explore Jooble for available bakery and cook jobs.
Bathroom
Bathroom drawers can become very unruly, especially for women who have a lot of jewelry, hair, and makeup products. You can also use a flatware organizer under a sink to manage taller items like shampoo and conditioner, hairspray, soap, and deodorant.
By leveraging the utensil organizer's customizable size, you can put the tray into smaller drawers for a tight, no-slip fit.
Office and Desk
Office cabinets and desk drawers are disorganization hotspots. Junk drawers often lurk in these areas. Using a flatware organizer can clear the junk and keep the office and school supplies within easy access.
Flatware organizers also keep small items like paper clips, rubber bands, glue, and staples from getting all over the drawer. Who doesn't want a clean and tidy workspace?
Tool Cabinets
Whether you just hang pictures or build furniture, having a flatware organizer for your tool cabinets can sort and keep track of:
Small Tools
Wrenches
Screwdrivers
Nails and screws
Hooks
Razor blades
Measuring tools and levels
Basically, all the things that find their way into the corners of your cabinet drawers need to have a place to call their own. A well-organized tool kit creates a positive construction environment.
Craft and Sewing Rooms
If left unchecked, a craft or sewing room drawer will grow into an unusable beast. By using a flatware organizer, you can easily keep track of crafting and sewing supplies.
Tame those ribbons, corral that glitter, and keep those pins in easy-to-navigate compartments to spur creativity and put the finishing touches on kid projects.
The Best Flatware Organizers Help You Keep Your Space Tidy
If you are ready to declutter or sort a drawer in your home, then a flatware organizer can help. Whether you prefer plastic or bamboo, flatware organizers are an essential tool for keeping your drawers neat and tidy.
While there are many great choices on the market, which organizer is best for you will depend on your organizational needs for that particular space. You may need something that washes easily or can expand to fit the entire drawer. Or you may just need something to keep your utensils from scratching when you open the drawer.
And keep in mind, the biggest complaint is that the flatware organizer didn't fit well within their drawer. So remember, before you buy a flatware organizer, make sure you measure the drawer or space to ensure that the organizer will fit nicely.