Novel cooks and professional chefs around the globe may swear by different methods, various techniques, and a wide range of ingredients. Still, most can agree on one sure-fire way to spice up almost any kind of food: all purpose seasoning.
From burgers and steaks to veggies and sauces, you simply can't go wrong with a high-quality all purpose seasoning. If you're looking to gather the staples for a well-rounded kitchen, this is definitely one of the items to put on your list.
Take your flavor profile up a notch with this simple spice blend, and your friends and family will think you've been taking cooking lessons. Let's learn a little more about the best all purpose seasoning and how it can enhance your recipes.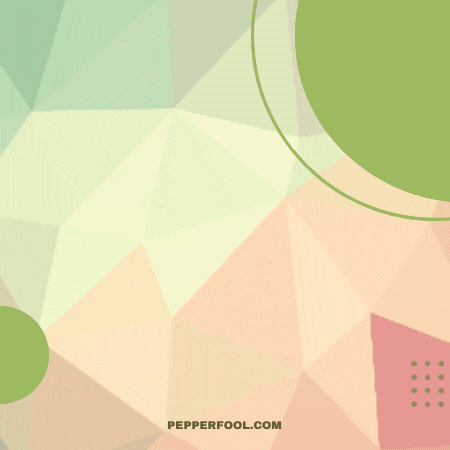 Best Pick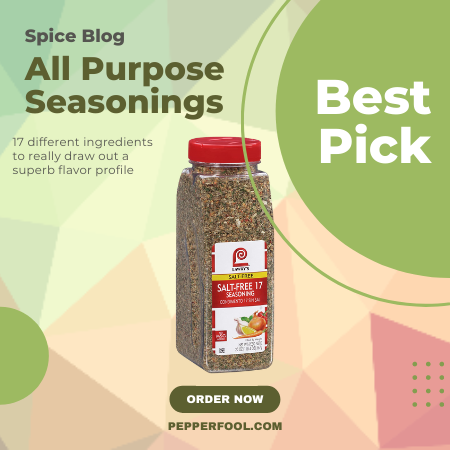 As the best pick, we chose Lawry's Salt-Free 17 Seasoning. While many of the options on our list today are excellent and include nice blends of five or six seasonings, Lawry's boasts a whopping 17 different ingredients to really draw out a superb flavor profile. Plus, even with all these components, it's salt-free. That makes it healthier overall.
Budget Pick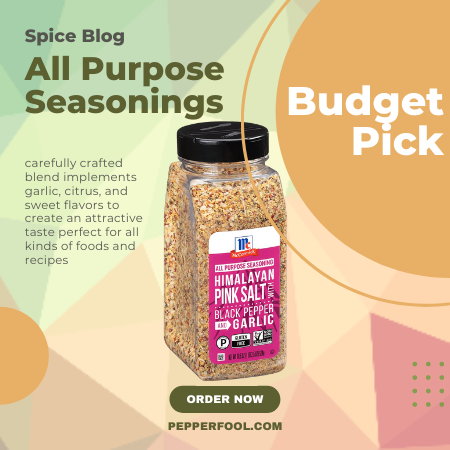 We also wanted to highlight McCormick's Himalayan Pink Salt All Purpose Seasoning as the best for your budget. With this unique blend of spices and herbs, you can season such a wide range of foods. It's easy on the budget without sacrificing quality taste.
Quick Comparison: Top 10 Best All Purpose Seasoning
​1. Lawry's Salt-Free 17 Seasoning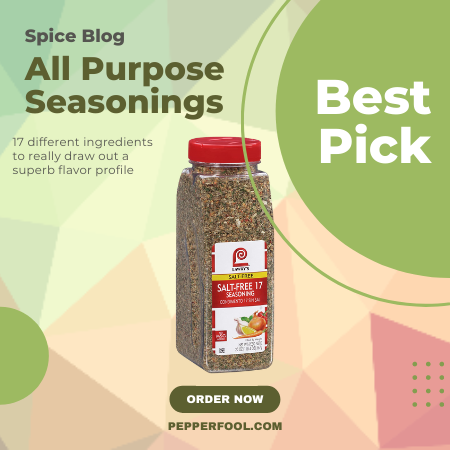 Highlighted Features
17 ingredients
Available in 1.25 pound and 10 oz
Salt-free
Many all purpose seasonings include four or five main ingredients to deliver a flavor-packed punch to your average foods and meals. Lawry's Salt-Free 17 Seasoning jams a whopping 17 ingredients into their spice and herb blend for a sensational palate that far exceeds our expectations.
Not only does Lawry's offer a robust flavor profile, but it does so without the salt that other spice blends often include. This means a healthier blend with all of the same great taste.
The 17 spices extend beyond your typical onion, garlic, and pepper to include unique ingredients such as basil, red bell pepper, turmeric, and toasted sesame seeds. This all-natural blend uses nothing but premium vegetables, herbs, and spices.
Other ingredients include cornstarch, sage, bay leaves, carrots, citric acid, orange peel, and lemon peel.
With no salt, added MSG, artificial colors, or fake flavors, you get a low-sodium solution to added flavor in the kitchen.
Lawry's 17 Seasoning is an excellent choice for food like beef, seafood, poultry, vegetables, and even pasta. Created specifically for professionals like chefs and dieticians, you can be confident that this blend is giving you the best of the best.
Pros
Delivers a robust taste
Offers a healthier solution
Available in large sizes and quantities
Designed for chefs and professionals
Cons
Some users feel the black pepper taste is too strong
2. McCormick Himalayan Pink Salt All Purpose Seasoning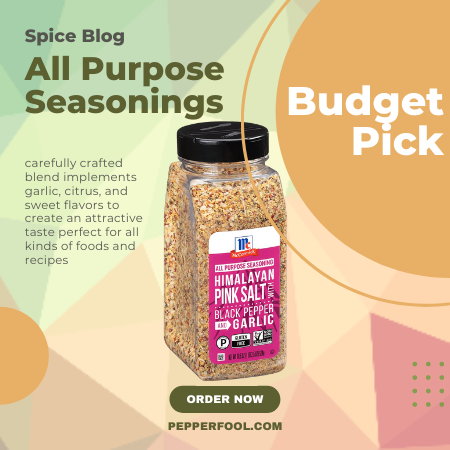 Highlighted Features
Available in 1.15 pound and 6.5 oz
Gluten-free
Certified paleo and non-GMO
Shaker and measuring spoon divided lid
McCormick is such a widely used and trusted brand in the culinary world that it's no surprise one of its creations tops our list of all purpose seasonings. Their specialized Himalayan pink salt seasoning is not only delicious but affordable. In fact, it's our option for the best budget choice.
This carefully crafted blend implements garlic, citrus, and sweet flavors to create an attractive taste perfect for all kinds of foods and recipes. However, some of the best things to put this on include avocado toast, stir fry, meat and meatless dishes, grain bowls, and wraps – just to name a few.
We also love it on the basics: beef, chicken, pork, and seafood. It's excellent for grilling, but you can also use it in other forms of cooking.
Even though it's based in a type of salt, this product is non-GMO – along with gluten-free and certified paleo for those of you on a specific diet.
Some other ingredients in this seasoning are onion, sea salt, black pepper, red bell pepper, lemon peel, parsley, and garlic oil. The ingredients are mixed perfectly and designed so that you can just shake it on your food like regular salt and pepper.
Pros
Applicable for a wide range of foods
Uses all-natural ingredients
Unique blend of garlic, citrus, and sweet
Trusted brand name
Cons
Flavors are overpowering for some simpler foods
Seasoning is a little dry for non-moist foods
Some ingredients are cut too large
3. McCormick Garlic and Onion, Black Pepper and Sea Salt All Purpose Seasoning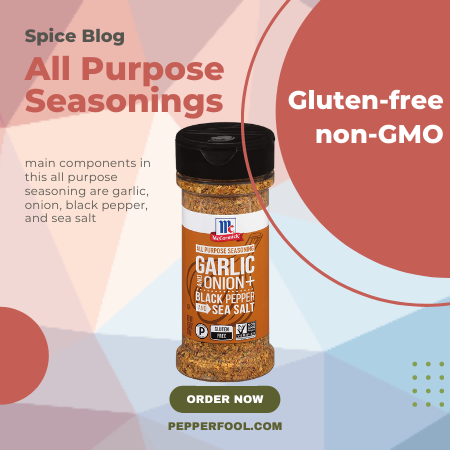 Highlighted Features
Available in 4.25 oz and 14.7 oz
Gluten-free
Paleo and non-GMO
McCormick doesn't achieve success with one product and then quit the game. They've created numerous popular spices, and one of their next best is their garlic and onion all purpose seasoning.
What's better than a seasoning that tells you its flavor profile right in its name? With so many different all purpose seasonings on the market, it can be frustrating to have to read each and every label. With this seasoning, you know exactly what you're getting.
The main components in this all purpose seasoning are garlic, onion, black pepper, and sea salt. Beyond that, you get the perfect blend of heat and herbal flavors – making it great across breakfast, lunch, and dinner.
This gluten-free, certified paleo, and non-GMO product is convenient, easy to use, and delivers a delicious burst of flavor. Use it with beef, chicken, and seafood, and top off your dishes prior to grilling, roasting, or baking.
Plus, the easy-open lid has a side for sprinkling and another side for measuring. How much easier could it get to have great tasting meals?
Pros
Perfect for all kinds of meats and vegetables
Convenient lid for sprinkling and measuring
Comes from a well-known and trusted brand
Excellent flavor balance
Cons
Chunky flakes of seasoning are too big for some meals
4. Special Shit Premium All Purpose Seasoning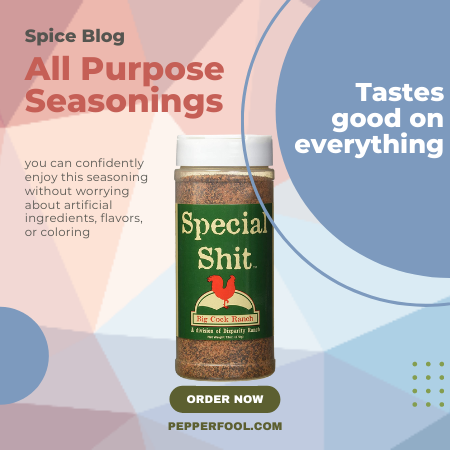 Highlighted Features
Available in 13 oz
Gluten-free with no MSG
Uses meat tenderizer to help with cooking
Don't take this company's comical approach to its name to mean it doesn't take its spices seriously. Special Sh*t offers a long line of seasoning, and not one of their products falls short. That's why we had to include their premium all purpose seasoning.
This seasoning adds a savory flavor to any food that you just can't beat. The finely ground spices deliver an even and smooth taste – without the hassle of large chunks or clumps areas of seasoning.
Despite the harsh name, this seasoning is simply gourmet in terms of quality. It's ideal for all kinds of meats, including steaks, pork, chicken, and seafood. But don't forget to include your veggies; this stuff is awesome on those, too.
The ingredients include many of the common ones you will find in other all purpose seasoning, such as salt, pepper, garlic, and onion. However, some of the standout flavors include meat tenderizer, paprika, chili powder, and even sugar.
Gluten-free and no MSG, you can confidently enjoy this seasoning without worrying about artificial ingredients, flavors, or coloring.
Pros
Tastes good on everything
Kitschy name catches your attention
Salty and savory flavor profile
Cons
Contains a significant amount of sugar
Delivers a rather strong pepper taste
5. Goya Adobo with Pepper All Purpose Seasoning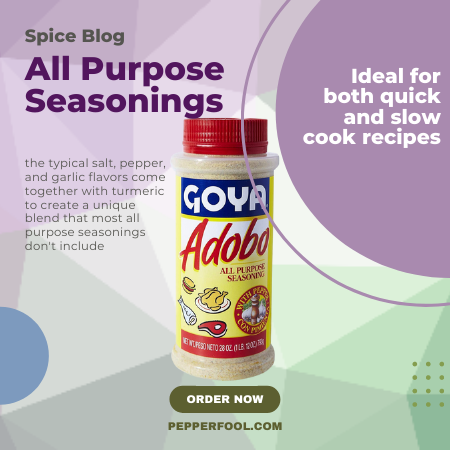 Highlighted Features
Available in 28 oz (two pack)
Made by an authentic and trusted Latino company
Gluten-free
Whether it runs in your blood or you're just a huge fan, sometimes we all just need a little Latin flavor in our kitchen. Nothing can beat the authentic taste of Latin foods and seasonings, so Goya did us a favor by delivering an all purpose seasoning made just for that reason.
Ideal for both quick and slow cook recipes, Goya's Adobo tastes good on just about everything. Although it does present a Latin background, you don't have to cook Latin food to use it. Throw it on your everyday chicken breast, burgers, and steaks, too.
The typical salt, pepper, and garlic flavors come together with turmeric to create a unique blend that most all purpose seasonings don't include. This Goya product is authentically Latino, gluten-free, and is an excellent savory source of flavor in your kitchen.
Pros
Implements classic seasonings for a great flavor
Multipurpose use
Affordable price
Cons
6. Simply Organic Italian Seasoning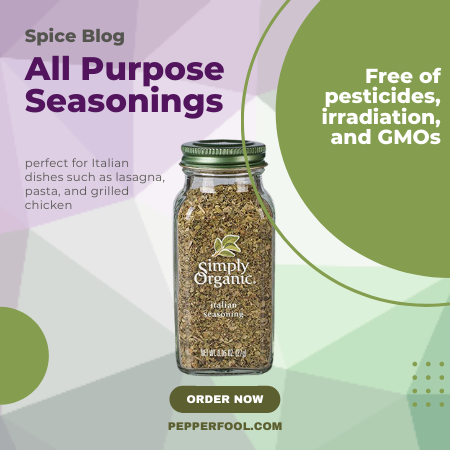 Highlighted Features
Available in .95 oz
Made from all certified organic ingredients
Free of pesticides, irradiation, and GMOs
In a world full of artificial flavors, processed foods, and chemical preservatives, it's nice to know that there are companies out there whose goal is to make authentic, real, and organic products.
Simply Organic Italian Seasoning is a specific kind of all purpose seasoning that focuses on Italian ingredients, herbs, and spices. The blend mainly uses dried oregano, thyme, marjoram, rosemary, sage, and basil.
If you have ever used any of these herbs, you know that they deliver a potent and appealing scent. Many of the herbs are often used either alone or in various combinations within Italian dishes. But, Simply Organic did all the work for you and put them together for the perfect blend.
While this specific all purpose seasoning may be slightly more limited compared to others we've talked about, it makes an excellent flavor enhancer for Italian dishes such as pasta, lasagna, and chicken recipes.
You can also add it to homemade red and white sauces for a unique mix of sweet, spicy, and sharp tastes.
Of course, as the name suggests, Simply Organic uses only finely picked, high-quality herbs. Every ingredient is certified organic, kosher, and non-irradiated. Pure, strong flavors are important to this company.
You can certainly find other Italian blends, but if the organic promise is one that is close to your heart, then this might be the perfect seasoning for you.
Pros
Strong, potent, and natural flavors
Excellent for Italian dishes
Company donates funds toward food insecurity
Cons
Less versatile flavor profile than other all purpose seasonings
Comes in a rather small bottle
7. Cavender's All Purpose Greek Seasoning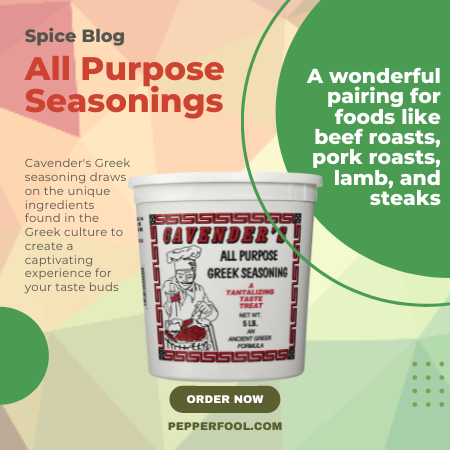 Highlighted Features
Available in a 5-pound tub
You can buy in packs of one, two, three, or four
Greek-centered flavor profile
Next on our list, we take a quick jump from Italy over to Greece to explore another country's version of all purpose seasoning. Cavender's Greek seasoning draws on the unique ingredients found in the Greek culture to create a captivating experience for your taste buds.
Boasting an "ancient Greek formula," this all purpose seasoning blend applies some of the classics to start out: salt, black pepper, garlic, and onion powder. From there, the concoction introduces oregano, sugar, and parsley.
A slightly mysterious blend of flavors, the packaging of this product lists the final ingredients as "five other spices," leaving us to wonder what creates such a fantastic flavor.
Nevertheless, this spice mix is a go-to favorite by tons of happy customers. It's a wonderful pairing for foods like beef roasts, pork roasts, lamb, and steaks, and is even excellent on classic chicken breasts.
Cavender's is so confident that you'll love their seasoning that they sell it in huge tubs. If that's not saying you'll use it a lot, we're not sure what does.
Pros
Excellent on steak, pork, lamb, and chicken alike
Comes in large containers for hefty use
Great for other non-traditional uses such as soups, gravies, omelets, quiche, and more
Cons
Does not tell you all the ingredients
Has significant amounts of MSG
8. Simply Organic Spice Right Everyday Blends All Purpose Seasoning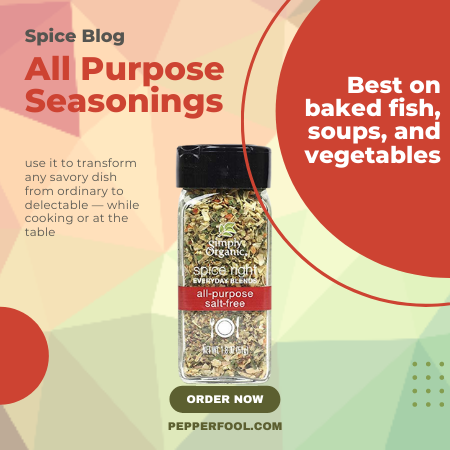 Highlighted Features
Available in 1.8 oz
All organic ingredients
You can purpose in packs of six
Simply Organic hits our list for a second time with its all purpose seasoning. After focusing on the Italian blend that this company provides, we couldn't help but dive headfirst into its all purpose seasoning blend.
Simply Organic sticks to its commitment to using only organic, high-quality ingredients. This blend not only delivers a robust and potent flavor, but it also sources sustainable and pure products. A 100% certified organic line, this all purpose seasoning extracts from reliable sources with no toxic pesticides, no irradiation, and no GMOs.
In this blend, you can find common ingredients such as onion, garlic, and black pepper. Beyond that, you get hints of tomato, bell pepper, carrot, orange peel, sage, cumin, thyme, rosemary, and more. And remember – each and every one of these ingredients are completely organic.
Simply Organic states that this particular blend is best on baked fish, soups, and vegetables. However, we have found that you can use it on several products beyond that, including pork, chicken, beef, and eggs.
Plus, it's salt free, making it a healthier alternative to other spice blends.
Pros
Excellent combination of several spices and herbs for flavor
Salt-free as a healthy choice
Reliable and reputable brand
Cons
Some ingredients cause larger pieces as opposed to a fine texture
9. Mike's All Purpose Seasoning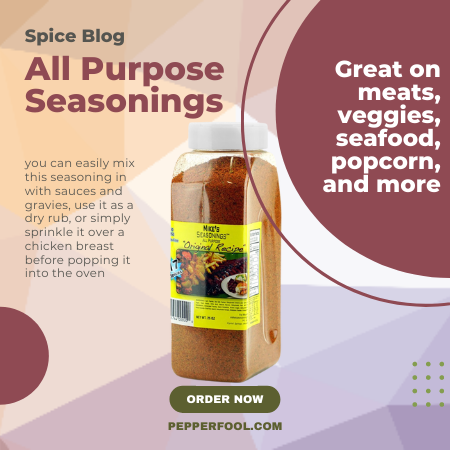 Highlighted Features
25 oz container
Manufactured in Mississippi
Original recipe can be used as a seasoning or a dry rub
Mike's brand knows that when you love a product, you need to get a lot of it, so you don't run out too quickly. That's why they sell their Mississippi-made all purpose seasoning in a large container – just for your convenience.
Mike's All Purpose Original Seasoning appeals to your taste buds with a savory taste that's perfect for foods of all kinds, from beats and seafood to veggies and even popcorn.
Blended into a fine powder, you can easily mix this seasoning in with sauces and gravies, use it as a dry rub, or simply sprinkle it over a chicken breast before popping it into the oven.
Some of the more traditional ingredients in this seasoning include salt, onion, garlic, and paprika. Users will also love the added parsley, brown sugar, citric acid, red bell peppers, tomatoes, and molasses with some paprika for a final kick.
Though the list of ingredients is a bit extensive, it is well-balanced without overpowering dishes. It's just enough to enhance the taste of your meal.
Pros
Wide range of flavorful ingredients
Ground into a fine powder for easier use
Excellent across beef, poultry, seafood, veggies, and more
Balanced seasoning that doesn't overpower the food
Cons
Uses lots of salt, which isn't healthy
High price for a "basic" seasoning
10. Riley's Award-Winning All Purpose Seasoning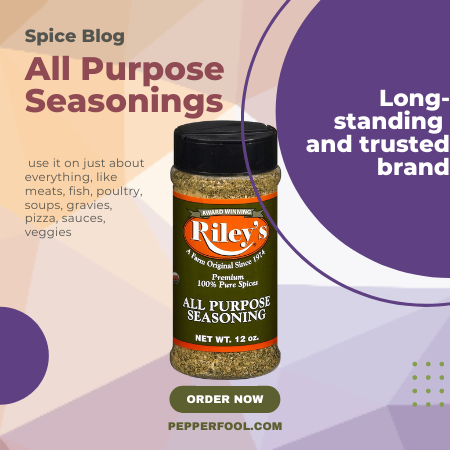 Highlighted Features
Available in 12 oz
Award-winning seasoning
Gluten-free, sugar-free, MSG-free
Nothing says high quality quite like an award-winning label, right? Riley's makes our list for its 100% pure ingredient recipe that has quite literally earned recognition – along with rave reviews.
This long-standing seasoning may have been around forever, but don't dare call it washed up. It holds strong today as well as it did when it was first created.
If you want balanced spices, unique flavor, and the finest of blends, you need to try Riley's. You can use it on just about everything, like meats, fish, poultry, soups, gravies, pizza, sauces, veggies – anything you can cook up in the kitchen, you can use with Riley's.
Some of the main ingredients include salt, garlic, onion, and black pepper. Though the company isn't completely transparent on the rest of the ingredients, it continues to prove itself through taste alone.
Pros
Long-standing and trusted brand
Natural and high-quality ingredients
Balanced array of spices and herbs
Goes great on practically everything from steak to salad
Cons
Lack of transparency with ingredients
Uses salt (though there is a salt-free version
What is All Purpose Seasoning?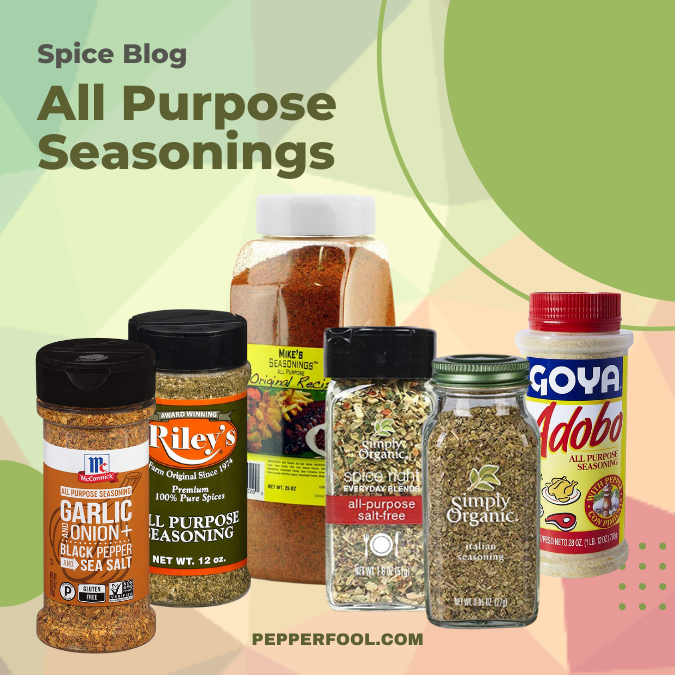 All purpose seasoning is a flavorful blend of spices and herbs that come together to add extra taste and a little bit of a flare to your everyday meal. Like your average spice, such as salt and pepper, it kicks up the aroma and savor of whole foods.
The best all purpose seasonings are available through various manufacturers and companies, so no one blend will be exactly the same. A few ingredients you can likely count on to be common among all of them include:
Garlic
Onion
Black Pepper
Salt
Aside from these staples, you will also find an array of dried herbs and savory spices in these palatable blends. Depending on the brand you choose, you may find some that include some more zesty ingredients like lemon, dill, and bell pepper.
Or, you can try others that implement the unique tastes of celery, paprika, oregano, and thyme.
As we mentioned earlier, no two all purpose seasonings will be exactly the same. While many of them differ only slightly, we recommend reading the ingredients label to know exactly what you're putting on your food.
For example, if you're not a huge fan of lemon-flavored food, then you should stay clear of all purpose seasonings that have lemon as an ingredient. The same goes for spicy – avoid all purpose seasoning that uses paprika or cayenne pepper.
Why Should I Use All Purpose Seasoning?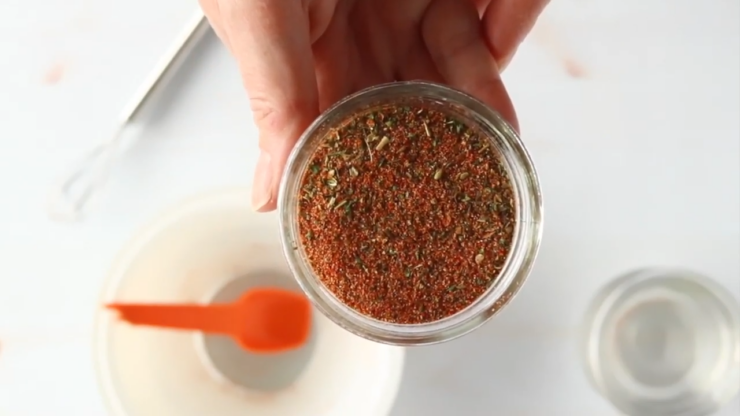 Source: youtube.com
There is a host of benefits that come with using all purpose seasoning in your kitchen over traditional seasonings. If you're not sure if you're team all purpose yet, take a look at these positive points.
Ease of Use
All purpose seasoning could not be easier to use. Since it's versatile enough for a wide range of foods, there's little to no guesswork involved in selecting which spices or herbs will make your food taste best.
In fact, many all purpose seasonings will include what types of foods you should try them on. Put away your phone, because there's no need to Google which spice is best for your backyard barbeque.
Simply grab one bottle, shake it on your food, and you're ready to get cooking. All purpose seasoning makes it easy for anyone to create great meals and exquisite recipes – even if you don't have much cooking experience.
Improves Food Taste
The goal of any spice or herb is to make your food taste better. Sure, we could all eat a steak minus the seasoning or serve up some shrimp fresh and plain – we would survive.
But those who truly appreciate food know just how significant an impact the right blend of spices can have. They take plain old broccoli and transform it from a vegetable into a delicious side dish. They completely bolster the juicy flavor or a perfectly grilled steak. They turn mashed potatoes from blah to brilliant. Check out more on YummyTasteFood.
If you need just one good reason to try all purpose seasoning on your food, it's the sole idea that these spices, herbs, and flavors work together to make your home cooking better – and with minimal effort on your part.
Minimizes Cooking Errors
Whether you work from a good old fashioned cookbook, or you prefer to try recipes from various online resources, you know the struggle that comes with following a recipe. Everything has a measurement, and if you're new to cooking, you might stress over following every item perfectly.
This stress includes seasonings.
We've all used that one recipe that adds five or more different seasonings to the recipe. It calls for a tablespoon of this, half a teaspoon of that, and just a pinch of the other thing – whatever a "pinch" is supposed to mean.
All purpose seasoning takes the guesswork and perfectionism out of cooking and makes your life so much easier. It's far too easy to accidentally grab the tablespoon instead of the teaspoon, and shaky hands coupled with rushing can lead to spills and too much salt.
When you use all purpose seasoning, you greatly minimize your chances of screwing things up. The blend already has the perfect amount of everything you need, from salt and pepper to dried onion, garlic, and more.
Plus, you never have to worry about not having a particular spice on hand. With all purpose seasoning, even if it doesn't have every single spice the recipe is calling for, it's already designed to give you a full flavor spectrum.
Don't kill yourself over those specific measurements – use all purpose seasoning and let the manufacturers do the work for you.
Health Benefits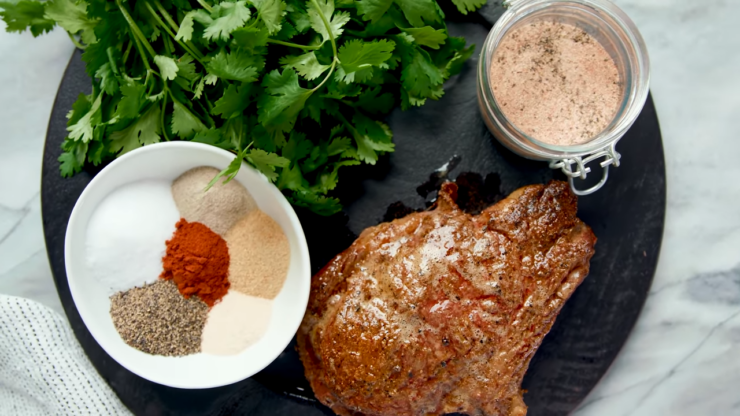 Source: youtube.com
As far as nutrition goes, you won't be reaching for your all purpose seasoning to track your macros or increase your protein. However, there are a few health benefits that come along with a large number of all purpose blends.
For starters, all purpose blends use mostly fat-free spices and herbs, so they contain little to no fat. Therefore, anyone who's on a diet doesn't have to stray away from making their meals a little tastier.
Secondly, all purpose spices are also low in carbs. Again, that's excellent news for someone who tracks their meals or is trying to lose weight.
Finally, although many all purpose seasonings use salt as a staple ingredient, there are many available that offer low-salt or salt-free options. High salt intake can cause detrimental health conditions such as high blood pressure, heart disease, and stroke. It can also cause bloating and, ultimately, discomfort for some people following a meal.
While some may believe you can't have a flavorful meal with salt, all purpose seasoning proves otherwise with healthier alternatives that taste fantastic.
Uses of All Purpose Seasoning
There's a reason why they call this kind of seasoning "all purpose;" it's because it has so many purposes! While you may not use it on absolutely everything, you can use it on quite a lot.
All purpose seasoning is most often used with savory foods. This list can include typical household meals and sides such as:
Steak
Burgers
Chicken
Fish
Shrimp
Rice
Vegetables
Easy enough, right? Of course, you can always get creative and try other things. That's the beauty of cooking: there's no one correct way to make a particular dish. It's all about experimenting and trying something new.
For example, one not-so-common way to use all purpose seasoning is to add it to flour where you're breading something. So, when you're breading chicken to bake in the oven, add some all purpose seasoning to the flour to give it a little extra flavor.
You can certainly add it directly to the chicken, but this way, you won't lose seasoning when you dip the cutlet in the egg wash.
You can also sprinkle some all purpose seasoning on side dishes like french fries, tater tots, and home fries. Try using a little the next time you make baked or mashed potatoes, too.
How to Make Your Own All Purpose Seasoning
All purpose seasoning is an excellent solution for anyone who's not quite sure how to use common spices throughout various recipes. It's also a great way to save space and money because it packs all of the different spices and herbs into one container.
But what if you know a little bit about cooking, and you already have a pantry full of these ingredients?
Rather than purchasing one of the top-notch all purpose seasonings we've talked about today, you can actually make your own using the spices and herbs that you have in your home. Here is a classic all purpose seasoning recipe that you can add your own twist to.
All Purpose Seasoning Blend by The Kitchn
There are tons of recipes out there for all purpose seasoning blends, but we were big fans of this one by The Kitchn because it has a common base that you can add to for more flavor, spice, and heat.
To start, gather the following ingredients:
Kosher Salt
Paprika
Ground Black Pepper
Garlic Powder
Onion Powder
Ground Coriander
Dried Dill
Red Pepper Flakes
We can already see from the list above that we have some unique ingredients that were not included in the all purpose seasonings we found on the market. So, you can be sure that this one will be special!
For beginners, we'll list out the measurements for each ingredient. This recipe calls for two tablespoons of kosher salt and paprika. Then, we have one tablespoon of black pepper, garlic powder, and onion powder—next, two teaspoons of ground coriander and dried dill. And finally, one teaspoon of red pepper flakes for a little extra heat.
If you like to toy around in the kitchen, this is the part where you can experiment with different measurements. For example, if you like your seasoning to be heavier on the garlic, you can increase that particular seasoning. Likewise, if you want your spice to really pack a punch, add some more red pepper flakes and paprika.
Simply add the ingredients to a bowl and stir to combine. You can keep them sealed in a glass jar or a shaker for future use.
Conclusion
As you can see from our discussion today, the best all purpose seasonings truly do serve almost all of your cooking needs. From meats and seafood to pasta, salad, and more, you can add these seasoning blends to your favorite dishes for a bit of a spin on the norm.
Whether you're new to the world of cooking or simply want to switch up your spice game, all purpose seasoning is definitely the way to go for all foods.
Check out some other picks from Amazon also: