Steak is one of those foods that many people can't get enough of but may not be able to prepare or go out and enjoy every single day.
Because of that, steak is considered a special dish and is often treated with a great deal of respect. It's a meat that can be prepared in all sorts of different ways, and adding the best store-bought steak seasoning to a cut of meat can bring out even more flavor than you could imagine.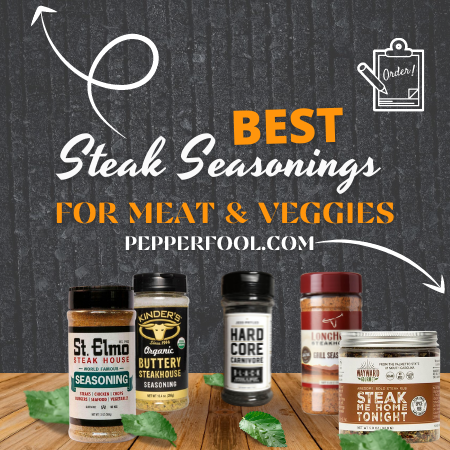 Today we're going to look at the 10 top choices for store-bought steak seasonings and explain what makes them so exceptional. This will give you the chance to look at your options and determine which one will be the most pleasing to your palate.
In addition to sharing some of the best seasoning choices, we'll also walk you through some things that matter when choosing the right option.
We'll talk about cuts of meat that make a great steak and what goes into the best steak seasoning to give your food that mouth-watering flavor. So if you love eating steak from your favourite Outback Steakhouse (check out their latest menu items covered by thefoodxp) or love to make it at home, then you should definitely know what's the best steak seasoning that you can buy.
Best Pick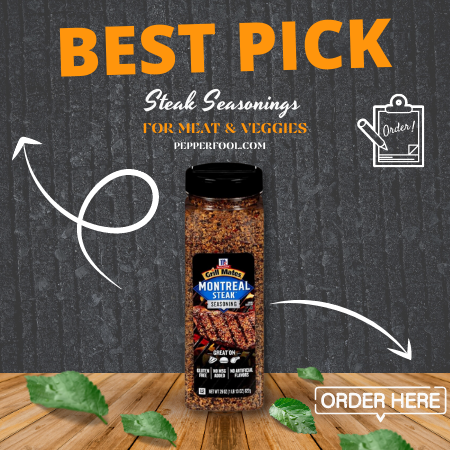 McCormick Grill Mates Montreal Steak Seasoning is a seriously popular steak seasoning that comes in many sizes and is made of natural herbs for a fantastic taste almost everyone loves.
Budget Pick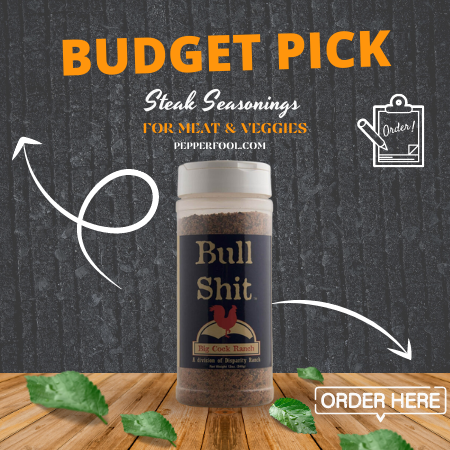 Another fantastic choice is Bull Shit Steak Seasoning, which has gone through extensive testing to ensure it compliments great cuts of meat like the ribeye, New York strip, filets, and more.
Quick Comparison – 10 Top Store-Bought Steak Seasonings
1.

McCormick Grill Mates Montreal Steak Seasoning – Editor's Pick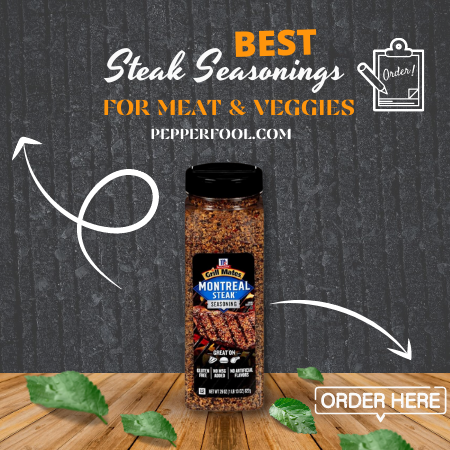 Highlighted Features
Offers a versatile blend of spices and herbs that can be used on steaks, burgers, and more
One of the least expensive seasoning blends for a taste that most love
A mild yet distinctive flavor you're bound to love
McCormick is a very well-known brand that has been creating seasonings for beef, chicken, pork, and other food for more than a hundred years, so it's no surprise that many of their seasonings have been around for years too, including this one.
It's a blend that most anyone can afford and can be used on all different cuts of steak to add an extra layer of flavor that will delight those you're serving. It's also easy to use by sprinkling a small amount on each steak and then cooking as usual.
Considering everything, this is a steak seasoning that most people will enjoy at a price that won't break the bank.
The ingredients and flavors featured in this seasoning include garlic, onion, parsley, orange peel, green bell peppers, black pepper, red pepper and paprika.
These all come together to create a seasoning that is more versatile than most. It can even work well with seafood like shrimp and salmon for a new flavor combination.
2.

Bull Shit Steak Seasoning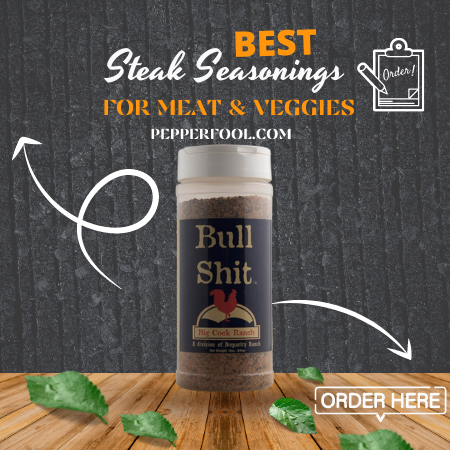 Highlighted Features
The blend has been extensively tested in the kitchen to ensure the best taste on ribeye steaks
Also works well with a selection of other beef cuts like New York strip, T-bones, and filets
Offers a mild among of spice but some of that dissipates as the cut of meat cooks
If you're someone looking for a new and unique kind of steak seasoning that is quickly becoming popular, you aren't going to do much better than the boldly named Bull Shit Steak Seasoning.
Anyone who prefers local United States made products will appreciate that this seasoning has been made and tested in Austin, Texas, where barbecue is always done right.
The company offers a line of different seasonings, but this one is specifically formulated to offer a great taste on steak and hamburgers.
The only real thing to watch out for is that sometimes the product isn't packaged in the best way, so the container can break and the spice can leak out.
While most steak seasonings are designed to add new flavors to steak or other beef, this selection is a bit different in that the ingredients are specifically compiled to enhance the taste of steak.
It can really ramp up the flavor of your old favorite recipes and add to the taste of new recipes, so you'll be sure to make them again and again. While the name might be a little bold, this is a great seasoning that is well-loved by those who have tried it.
3. Saltgrass Seven -7- Steak Spice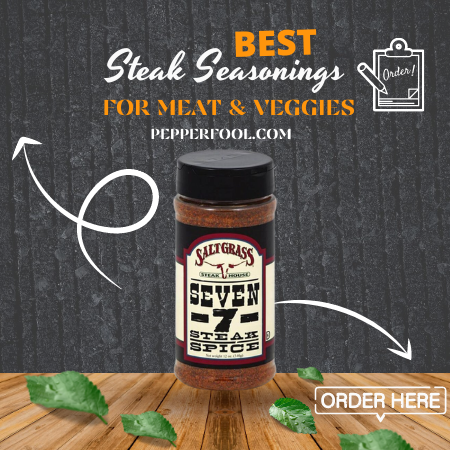 Highlighted Features
Offered in a wide selection of sizes with one, two, three, or four containers of the steak spice
Can be used with baking, broiling, frying, grilling and more
Each bottle is 12 ounces in size which is large enough to last but not so much it will go bad
If you are from Texas, you may be familiar with Saltgrass Steakhouse, considered to be one of the best places to grab a filet or ribeye in the entire state.
This steak seasoning is made by the famous restaurant itself and lets you enjoy that distinct seasoning flavor from wherever you happen to be. It's designed to be used on all sorts of steaks, whether you prefer T-bones, sirloins, tenderloins, or something completely different.
This seasoning is designed to be used in place of your typical salt and pepper mix and can also take the place of barbecue sauce while boosting the flavor further than either other method is capable of doing.
While it's made for steaks, it can also be used on pork chops, chicken, and other foods to add a great dose of flavor you won't get elsewhere. Just remember that the thicker the cut of meat is, the more seasoning you should use.
The ingredients listed on the steak seasoning include kosher salt, black pepper, paprika, garlic powder, onion powder, dry mustard and ground thyme, all of which work well with steak.
The only real concern to worry about is that sometimes the bottles can break in transit, or the seals may be broken upon arrival.
4. Steak Me Home Tonight Dry Steak Rub by Wayward Gourmet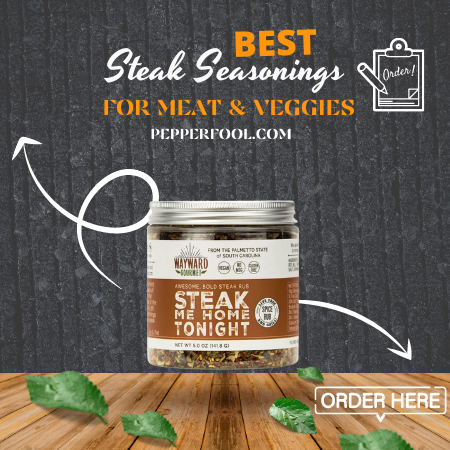 Highlighted Features
Features a unique dry rub formulation designed for extra flavor enhancement
Each jar is handmade in the United States in South Carolina to ensure freshness
Can be used on all sorts of items like beef, lamb, ribs, pork, chops, or even vegetables
It might be surprising to consider a steak seasoning would be completely vegan, but Steak Me Home Tonight Dry Steak Rub by Wayward Gourmet offers exactly that.
That means that not only can you use this steak seasoning on a variety of meats, but you can also add it to vegetables, tofu, and more for vegan dishes that taste fantastic. Other things that set this product apart are the fact that it's gluten-free and contains no MSG.
This steak seasoning includes ingredients like coriander seed, coarse black pepper, red bell pepper, onion, garlic, dill, coarse sea salt, caraway seed, thyme, and lemon peel to pull together all the best flavors to douse your meat or vegetables.
It's a fancy steak seasoning that will impress guests as soon as they take their first bite. It also comes in various sizes of jars, so you can choose the option that works best for you.
The only issue to worry about with this steak seasoning is that it can occasionally get broken open in packaging, which can be frustrating.
Some people are also not fans of all the ingredients, so you want to be sure it is a mixture that works with your palate. Otherwise, it's a great choice that is continuing to gain popularity.
5. Longhorn Steakhouse Grill Seasoning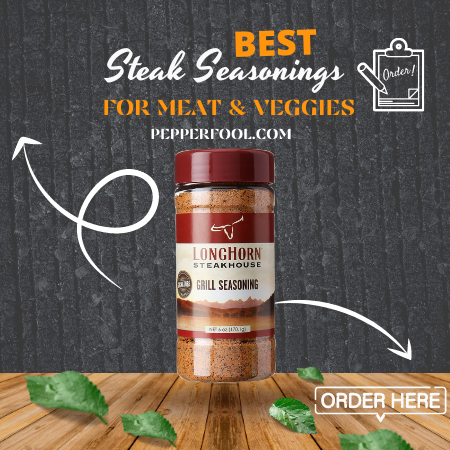 Highlighted Features
Comes in a package with three six-ounce bottles so you can stock up on great seasoning
Offers a mild but distinct flavor
Works well on steak but can also be added to ribs, chops, lamb, pork, and vegetables
Longhorn Steakhouse is one of the most popular steakhouses in the United States, and one of the reasons for that comes down to the seasoning used on the many cuts of meat they serve there.
This grill seasoning from Longhorn offers the same taste from the comfort of your own home. Whether you love steaks, are a huge rib fan, or prefer chicken, this is a seasoning that will taste great on all of them and more.
This seasoning is largely made of a blend of peppers, cumin, and garlic to give a nice taste without being too overwhelming. Compared to heading to a steakhouse, the seasonings are super inexpensive and will last a long time, even if you cook for a large family regularly.
However, it does include a lot of salt, so those watching sodium intake may want to be cautious about using this particular steak seasoning.
Those who have tried the previous version of Longhorn steak seasoning will find that this blend is a bit different, but most people still enjoy it in its updated form. It can also be a bit too spicy for some people, but that's going to be a matter of preference.
6. Jack Daniel's Original Quality Steak Seasoning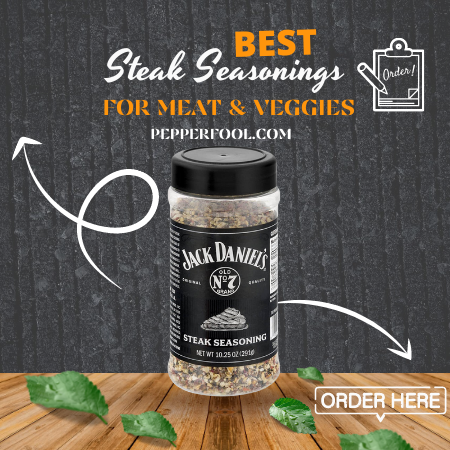 Highlighted Features
Comes in an economical sized bottle with plenty of spice at a low price for the whole family
Offers a great flavor ideal for steaks but works well for other meat like ribs and burgers
Uses a special formulation that ensures the seasoning stays fresh for a long time
The idea behind Jack Daniel's Original Quality Steak Seasoning is that you can smoke a brisket with it to get a coating of sweetness that hits the palate in just the right way.
It is recommended for all sorts of beef cuts, but it can also be used on chicken, pork, vegetables and other foods. This is a robust and rich seasoning that adds extra flavor to your meals to make them even more delicious than they normally would be.
For the best results, the company recommends that it be used on the meat before it's grilled or smoked to get the best taste and tenderness possible.
It also happens to be gluten-free and is made of all-natural ingredients. Since the bottle is somewhat smaller than others, it won't lose its flavor, and the sealed bottle helps keep out unwanted moisture.
If you're hoping for an intense taste of brown sugar and maple, that isn't something that this seasoning will offer, which some find an issue.
However, aside from this minor issue, it makes a great seasoning for steaks and many other dishes. It does have more salt than some steak seasonings, though, so keep that in mind.
7. Bolner's Fiesta Uncle Chris Gourmet Steak Seasoning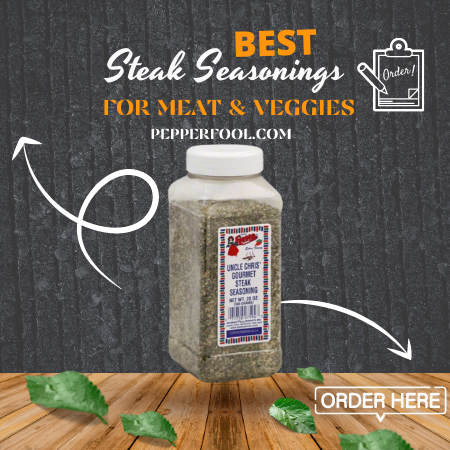 Highlighted Features
Comes in a large container that works well for restaurants or homes that cook lots of beef
Featured product from Texas and direct from Uncle Chris to share the taste of his barbecue
Contains less salt than many steak seasonings and a variety of tasty ingredients
This steak seasoning by Bolner's Fiesta was created by "Uncle Chris" and is a tradition to use in Texas that has since started to become popular in states across the country.
It is a spice blend that is composed of garlic, onion, salt, pepper, lemon zest and other spices to make sure even the most inexpensive cut of beef are mouthwateringly tasty. It also works as a tenderizer, so you can ensure that your steaks are all tender and juicy once on your plate.
It's an easy to use steak seasoning that you can sprinkle on and blend with the meat about 30 minutes before you barbecue it over an open flame to get the best and most authentic taste.
Those who want something a little bolder for their steaks or ribs can put the seasoning on the meat and let it sit in the refrigerator overnight so it can develop and strengthen for the intensity you want. This seasoning is a healthy option that contains absolutely no trans fats.
For those with large families, this comes in a big container and has a shaker top bottle, so application is a breeze.
However, some people don't like the flavor or find it's too salty, so it may or may not be the right blend for your tastes depending on what you prefer. Otherwise, the item is loved by many and is becoming increasingly popular over time.
8. Hardcore Carnivore Black Steak, Meat, and BBQ Seasoning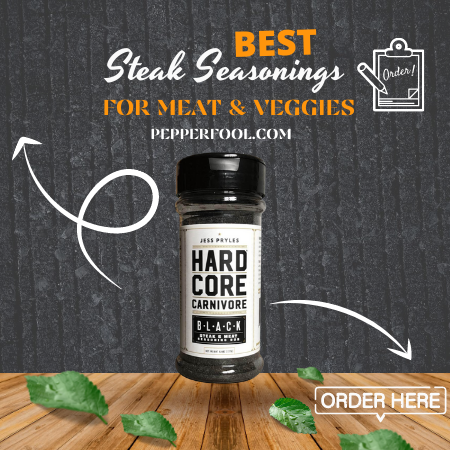 Highlighted Features
Features a blend of seasonings including food-grade activated charcoal from coconut husks
Offers a steak seasoning with a smoky and slightly bitter taste with earthy notes
Includes high-quality ingredients with no MSG and a gluten-free formulation
Another of the steak seasonings that originates in Texas is Hardcore Carnivore Black Steak, Meat, and BBQ Seasoning, and it has a lot of interesting things going for it.
The most interesting is that the steak seasoning is jet black, which comes from the charcoal that is used in its creation to add flavor, texture, and color to steak and other meats. It has a unique flavor that may be appreciated by those who aren't fans of traditional steak seasonings and offers a new choice for those who do.
When you open up the container, you'll smell smoked garlic along with onion, chili powder, and black pepper, which are blended well to ensure they don't overpower one another.
However, the spices inside can settle over time, so it's a good idea to shake up the bottle a bit before you use it each time, so you get all the flavors instead of just one or two.
This is a seasoning that will be noticed for its smell, taste, and the dark coating it adds to any meat. However, it doesn't fit everyone's tastes, so making sure the ingredient list includes things you enjoy can be a good idea if you're still unsure.
9. Kinder's Organic Buttery Steakhouse Seasoning Rub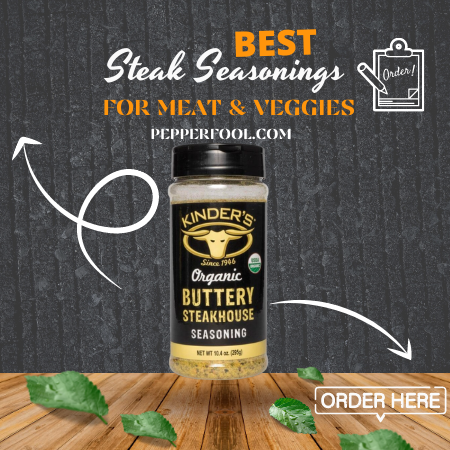 Highlighted Features
Offers a unique steakhouse seasoning blend that is certified organic by the USDA
Works well on steak but can also be applied to seafood, pork, poultry, and vegetables
Features less of a spicy flavor and is full of herbs and butter
The truth is that not everyone wants a spicy steak seasoning or a traditional one that is less intense like Montreal, which is why Kinder's offers something new with the Organic Buttery Steakhouse Seasoning Rub.
It contains a blend of salt, onion, garlic, butter flavor, spices, bell pepper, parsley, yeast, sunflower oil and more, offering something different on your steak. It should be applied before you cook the steak, but you can add more during the process if you want a deeper flavor.
This is a truly unique blend that can be perfect for those who are under the impression that they don't like steak seasonings.
It can be added to almost any kind of food, whether meat or vegetable, to cut the blandness and add the delicious taste of herbs and butter. Some people have even found that it tastes great sprinkled on things like popcorn.
The main thing to be aware of is that it only takes a little of this seasoning to give an intense flavor, so start easy and add more only if it's needed.
Also, some individuals have had issues with getting broken bottles and needing replacements, although this seems to be fairly uncommon.
10. St. Elmo Steak House World Famous Seasoning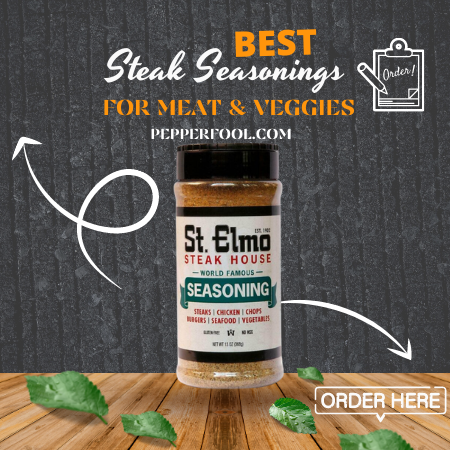 Highlighted Features
Works equally well on chops, pork, chicken, seafood, and burgers as it does on steak
Offers a healthy steak seasoning option with no MSG and a gluten-free formula
Makes it easier to enjoy the flavor of St. Elmo's steaks without having to leave your home
If you live somewhere that offers a St. Elmo Steak House, you may know how popular they are and how people go there time and time again to enjoy their famous steak seasoning.
Now with their World Famous Seasoning, you can have that same taste while you're at home without spending a fortune on a steak night out on the town.
The ingredients in this seasoning are fairly simple, with sea salt, evaporated cane juice, onion, black pepper, paprika, celery, garlic, and more.
Still, they all work together well to hit your palate perfectly and make any cut of meat taste like a million bucks. It comes in a 13-ounce bottle, so it's not so large it will get stale but can still be used on multiple meals even in a large family.
All in all, it's one of the best steak seasonings for anyone who has enjoyed visiting St. Elmo for steak.
As our last recommendation, it's just as popular as the first and may be the right option for your kitchen. It's inexpensive and can make a great addition to your spice rack if you enjoy a steak regularly and want to enhance the taste before you cook it.
Things to Know When Selecting the Best Store-Bought Steak Seasoning
Before you even look into the different qualities that matter in a great steak seasoning, you want to think about the steak itself. There are many cuts of meat to choose from, and some are going to be more appealing to you than others.
So, we'll start by looking at popular cuts of meat, common preparation methods, and then look at the seasonings and what they bring to the table.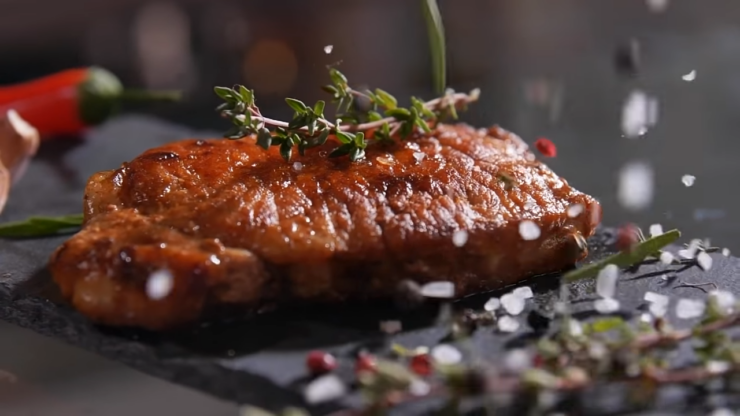 Source: youtube.com
Choosing the Ideal Cut of Meat for Cooking Steak
One of the most popular types of steak is the loin, also known as the longissimus dorsi, which is composed of the tender, long muscles that run down the ribs, spine, or neck to the hip of an animal.
The level of the tenderness of a steak is related to how much activity a cow was able to enjoy while it was alive, as a muscle that has moved around a lot is more tender than one that hasn't. This means the loin is great for steak since it is tender while also being fairly inexpensive.
Another common choice is the tenderloin or filet mignon, which is known as the psoas major and is located about 2/3 of the way down the spine on the opposite side of the ribs. This is the most tender muscle you will find on a cow.
This steak is fairly small compared to others and has a high demand, so it will often be much more expensive than other cuts.
While these are only two cuts of meat you can enjoy, they are some of the tastiest steaks you can prepare. If you are someone who appreciates a different cut, there's no reason not to go for it.
Tips and Tricks for Preparing High-Quality Steaks
In some cases, people will say that a great cut of steak needs no more seasoning applied than a bit of salt and pepper.
However, many others appreciate using a steak seasoning to add an extra depth of flavor to the meat. Even if you're fine using the salt and pepper method, it can be exciting to try something new and bring additional flavors into the mix.
Depending on the cut of steak you choose, it can be a great idea to tenderize the meat before you begin to cook it.
This can easily be done by covering the meat with plastic wrap and then using a rolling pin to smack it a few times. When you do this, it starts to break up the meat fibers and can make steak more tender and delicious when it's time to eat.
The Best Way to Use Steak Seasoning Blends
Once you decide on a steak seasoning, you will have to apply it to the meat before you cook it. This simply means generously rubbing the seasoning all over steak.
If you like, you can drizzle a bit of oil on the steak before you rub in the seasoning, which helps the seasoning stick and can add fat for sear marks.
It isn't required to add oil, so only do so if you like a bit of extra fat or if the seasoning isn't sticking the way you would prefer for it too.
In addition, while you rub in the seasoning, make sure you're massaging the steak well so it ends up covered well and evenly distributed.
Choosing a Steak Seasoning Based on Ingredients
One of the most important things to consider when choosing a steak seasoning blend is what ingredients it uses. Some people prefer a simple blend with things like sea salt, black pepper, garlic powder, and onion powder.
In contrast, others might prefer more interesting ingredients like ground cinnamon, cayenne pepper, or even ground coffee.
All of the steak seasonings above offer herbs and spices that go well with meat, but that doesn't mean they're all going to be your favorite flavors.
Take a moment to go through all the ingredients to see if they match up to your tastes and expectations.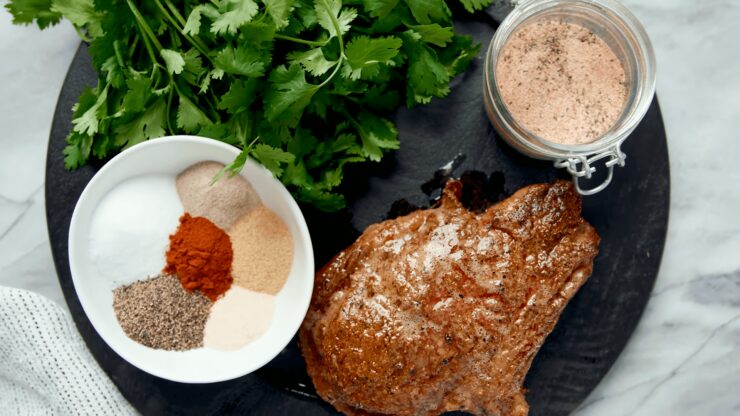 source: youtube.com
Size of the Store-Bought Steak Seasoning Container
Another practical factor to take into account is how small or large the container is. If you're someone who grills all summer long or oven bakes steaks throughout the year, you might be better suited to a large package that will last you a while.
On the other hand, someone who rarely makes steak might be happier with a small container that takes up little space and can be tossed in a spice rack or cabinet when not in use.
On the subject of space, you also want to be sure you have somewhere for the steak seasoning to go. Having a huge container might be a negative for your kitchen if it's small and you have nowhere for it to go.
Price and How Your Budget Relates to It
While most store-bought steak seasonings aren't going to be especially expensive, that doesn't mean that they all come cheap either.
Sometimes you might want something simple that costs very little, while other times you might want to spend a bit more for a premium spice blend. A huge part of this comes down to your budget and how seriously you take steak seasonings.
If your budget is minimal, you may want to choose a less expensive seasoning or a smaller container or a high-quality one.
Those with higher budgets may want to try something new and more expensive or just get more of a favorite family seasoning.
Conclusion
The best store-bought steak seasoning is going to be one that contains all your favorite flavors, is easy to apply, and that will stay good in your pantry or cabinet for a reasonable amount of time if you don't cook steak on a regular basis.
Other than that, it's all down to your personal preferences to decide which is going to taste the best for you and anyone else who'll be enjoying your perfectly seasoned steaks.
Check this also: