Pregnancy is one of the important phases in a woman's life so you must make every decision cautiously. You have to take care of yourself as well as your unborn child. You must be aware of the things that can be harmful to you and your baby, especially what you eat.
Your unborn child gets nutrients for proper growth and development from what you eat. Hence, you must be cautious about what you consume.
Mushrooms, if cooked properly, are incredibly tasty and delicious. Mushrooms have high nutritional components, including vitamins, minerals, and fibers, but whether it is safe for you to eat them while pregnant might require some consultation with your doctor. Also, some research is needed on what you should eat and what you shouldn't during pregnancy.
In this article, you will get insights into if you can eat mushrooms while pregnant.
Is It Safe To Eat Mushrooms During Pregnancy?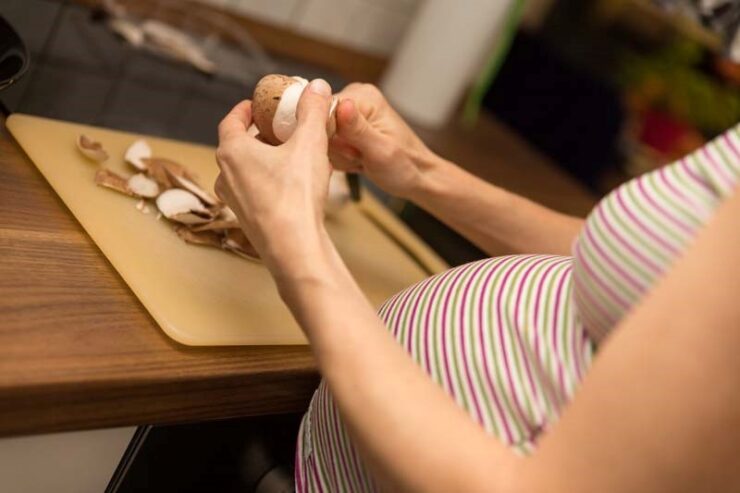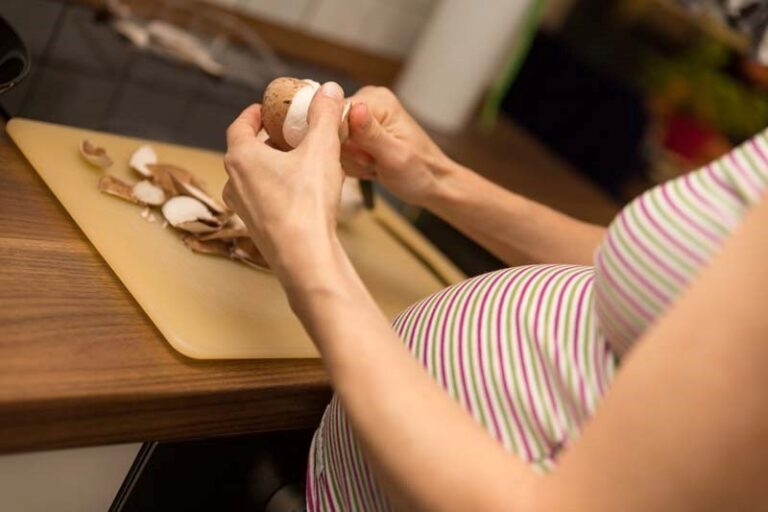 In general, eating mushrooms is not harmful to pregnant ladies or for their children, and neither do they fall under the list of food that is restricted while pregnant. There are different types of mushrooms, but not all mushrooms are edible, and there are a few types of mushrooms that can have adverse effects on your health.
It is very important for you to be aware of which mushrooms are edible. During pregnancy, women can eat most types of edible mushrooms unless they are allergic to them. Eating mushrooms can cause stomach discomfort and may be harmful to the child if they are not cleaned and cooked properly.
You can eat mushrooms safely without causing any danger to your unborn child. Just remember the following points:
1.    You should avoid raw mushrooms
You should avoid raw mushrooms when you are pregnant. This is because they grow in soil and, if they are not washed and cleaned properly, might contain pathogens like Toxoplasma gondii, which causes toxoplasmosis.
This is a rare disease that can cause complications during pregnancy, especially in women with a weak immune system. This disease is foodborne and can be a high risk to their unborn child.
2.    Mushrooms contain chitin
Chitin is a natural polysaccharide that makes mushrooms rich in fiber and gives them a meaty texture. Moreover, chitin is made of an abundant biopolymer that makes raw mushrooms difficult to digest and can cause stomach discomfort. This occurs more in pregnant women and might be risky for your child.
But if mushrooms are properly cooked, then chitin breaks down more, and it becomes easier to digest.
3.    Wash mushrooms properly before cooking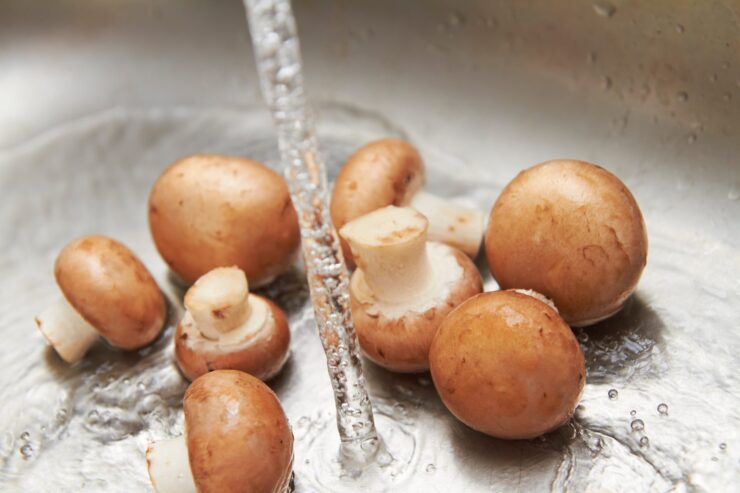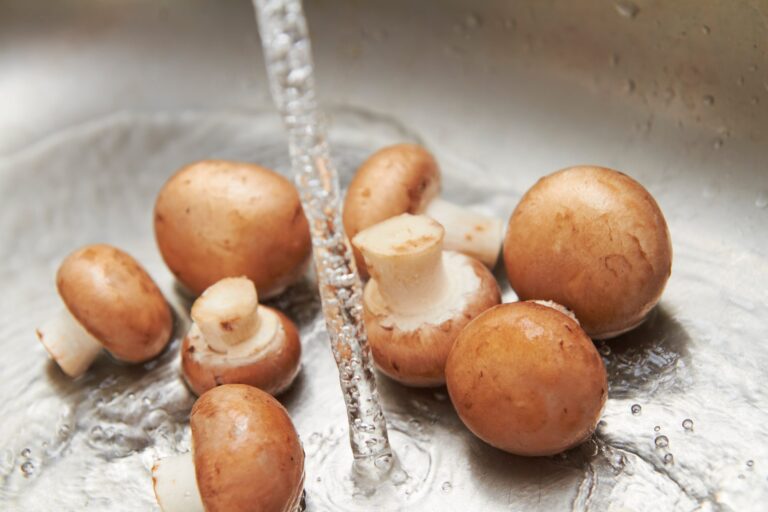 Wash mushrooms properly a few times before cooking. As you know that mushrooms are grown in soil, and just soaking them in water will not help you get rid of the dirt and soil on them. You must wash them thoroughly with a brush until you are not sure they are cleaned properly and safe for you to eat.
Also, the physical structure of mushrooms has thin cracks that contain dirt and soil inside them. So, you must wash them with water and clean them properly to keep yourself and your unborn child safe.
4. Don't eat mushrooms that you haven't seen before
It is better to be safe with an unborn child inside you. If you see any type of mushroom that you haven't seen or eaten before, then the best option will be not to try something new that you aren't aware of, especially in the case of wild mushrooms. There are plenty of wild mushrooms that are not good for your health but look exactly like the ones that are edible.
If you consume mushrooms regularly, then it will be easier for you to identify them from the ones that are edible but if you don't eat mushrooms quite often, then avoid picking up mushrooms from the wild and buying them from the food market.
Nutritional Benefits From Eating Mushrooms While Pregnant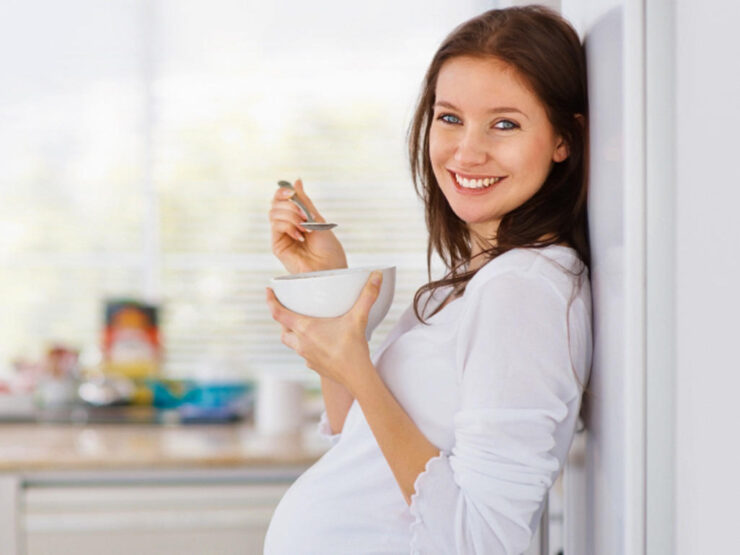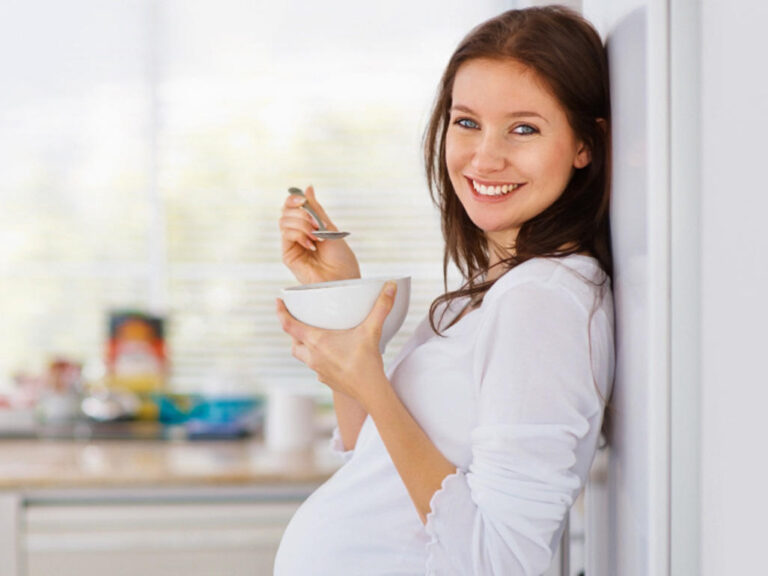 Mushrooms have high nutritional components. They contain high source vitamins, minerals, and nutrients that will help in the proper growth and development of your child. Also, they contain zero cholesterol and are low in fat and calories, making them an ideal vegetable to consume, especially for pregnant women.
However, the nutritional component is not the same in every mushroom. You must consult with your dietitian regarding which mushrooms will be best for you during your pregnancy, considering you aren't allergic to them.
Also, how mushrooms are prepared is an important factor that determines whether they are healthy and safe for pregnant women or not. Mushrooms, when sauteed or roasted properly, are healthier and safer options to eat.
Avoid eating them raw with flavored sauces, fried or stuffed inside other meals. There are a few types of edible mushrooms that taste more delicious when consumed raw, but while pregnant, it's better to avoid eating raw mushrooms at all.
In general, all edible mushrooms contain an adequate amount of antioxidants like vitamin C, choline, and selenium. They are also rich in fiber, folate, protein, iron, and vitamin B, which are highly effective and an excellent choice of food for pregnant women. Just ensure that you wash, clean, and cook them properly before you consume them.
Here are some types of mushrooms that are safe to eat when pregnant. Black fungus mushrooms, Button mushrooms, Chanterelle mushrooms, Chestnut mushrooms, Crimini mushrooms, Enoki mushrooms, Oyster Mushrooms, Morel mushrooms, and Shitake mushrooms.
These were some popular mushrooms that can be consumed during pregnancy without any risk to the child. Always remember to wash and clean them thoroughly and avoid eating them unless they are properly cooked.
Make sure you are buying good-quality mushrooms from a reputable food retailer. Also, ensure that you are not allergic to mushrooms and still consult a dietitian for what to eat and what to avoid during pregnancy.
Conclusion
Here is a complete guide on the consumption of mushrooms during pregnancy. We hope that reading this article will give you a clear idea about if you can eat mushrooms while pregnant.
Mushrooms are an excellent choice while pregnant but do remember the precautions you must take before eating them.
Take a look at the list below:
ONETANG Dried Shiitake Mushroom Slice, Rehydrate Quickly, Soft Texture, Fresh Flavor, Stemless, Vacuum Sealed, Vegan, No Fumigation Sulfur 8 Oz
Shiitake slices rehydrates quickly, have a great flavor and are just chewy enough.
Mushroom slices are fragrant and rich, the meat is thick and thin, the species is authentic and the source is selected. Conform to the laws of nature and pick them in time, 100% New crop.
No Fumigation Sulfur, No Artificial Additive, strict control of the water standards, moisture content less Than 13%.
Shiitake slices are of excellent quality and color and are sliced in varying sizes. BRC, ISO22000, HACCP certificated factory.
LOVE IT OR WE BUY IT - We don't think you should pay for products that you don't love. If you aren't enjoying our products, simply let us know and we will refund your order - it's as easy as that!
Sale
Native Forest Organic Sliced Crimini Mushrooms, 4 Ounce Cans (Pack of 12)
SLICED CRIMINI MUSHROOMS: Native Forest Organic Mushrooms are wholesome, tender and delicious, yet low in fat and calories. Enjoy them in soups, sauces, stir fry, salads, even on pizza.
CERTIFIED ORGANIC: These mushrooms are Organic and kosher certified, vegan and gluten free. Grown using organic farming practices that make sense for our food, our environment and for all of us.
SUSTAINABLY FARMED: We support organic & sustainable farming that avoids GMOs & pesticides. We're proud participants in the Non-GMO Project & want our consumers to know where their food comes from.
SUPPORT FOR SPECIAL DIETS: Our vegetarian products are ethically sourced & suitable for many special diets including vegan, gluten free, paleo, keto, kosher, organic & low sodium.
OUR COMMITMENT TO HEALTHY OPTIONS: Our company was born out of a commitment to create delicious & healthy vegetarian foods with convenient preparation for those with busy, health-aware lifestyles.
Sale
ONETANG Dried Shiitake Mushrooms 16 Oz, Rehydrate Quickly, Soft Texture, Fresh Flavor, Stemless, Vacuum Sealed, No Add, 2022 New Black Mushrooms 1 LB (Holiday Gifts)
Vacuum Sealed--Dried mushrooms 16 oz of vacuum packing keep the freshness of products and prolong the shelf life of products.
Rehydrate Quickly--These mushrooms require little soaking time to become soft and tender and have that distinctive flavor that every family loves.
Shiitake mushroom is fragrant and rich, the meat is thick and thin, the species is authentic and the source is selected. Conform to the laws of nature and pick them in time, 100% New Crop.
No Fumigation Sulfur, No Artificial Additive, mushroom foot length control less Than 1cm, strict control of the water standards, moisture content less Than 13%. BRC, ISO22000, HACCP certificated factory.
Tasty With Umami Flavor--Use them in all different dishes. They have nice umami flavor, and one way also adding them to soups. They make the soups more delicious. cook them with vegetables or meat.
Dried Chanterelle Mushrooms, Premium Grade (2oz)
None GMO, Kosher, Organic, Gluten Free, Vegetarian and vegan favor Mushrooms.
Great source of mix vitamins, minerals and protein.
Great for adding flavor, fragrance and color to many veal, poultry, pork and egg dishes as well as cream sauces.
Can be used in soups, stews and other main courses.
Product of USA.
Vigorous Mountains Dried Black Fungus Woodear Mushrooms 2 Ounce
2 Oz Black Fungus Woodear mushrooms (Auricularia Polytricha) are cultivated all over the world but grown for the commercial dry market almost exclusively in China
Woodear mushrooms are believed by many to be good for the heart. The woodear has a firm skin with a slightly crunchy texture and an earthy flavor.
Curious in texture, intriguing in flavor, and with a contemporary appearance this mushroom is perfect for the hip home cook.
Basic Preparation: To reconstitute, place desired amount into a bowl and cover with boiling water. Let soak for 12-15 minutes, stirring occasionally. 1 oz dry reconstitutes to 9-10 oz
Many chefs have begun to treat shredded Wood Ear like a pasta as instead of a mushroom. Add them to cold soba dishes, or tangle together with fettuccini and slather in an alfredo sauce for an East-meets-West dish.
Roland Foods Whole Medium and Large Button Mushrooms, Specialty Imported Food, 16 Ounce (4 Pack)
CANNED WHITE MUSHROOMS: Slightly sweet, earthy flavor with a firm and juicy texture
MILD AND VERSATILE: Instantly enhance pan sauces, red and cream sauces, baked dishes, and more
A KITCHEN STAPLE: Great for busy professional kitchens to ensure key ingredients are always on hand
QUICK PREPARATION: Simply rinse and drain before enjoying or adding to cooked recipes
RESTAURANT QUALITY: Ideal for use in food service or in the home