Broiled food has our hearts. It is basically grilled food turned upside down and cooked in high heat. The specialty of broiling is that the heat comes from the top of the oven and acts upon all parts evenly. Owing to this unique cooking technique, the vitamins and nutrients in the dish are preserved, so is the flavor.
Fish, meat, chicken – whatever you have on your menu, broiling can make it more flavorful and healthy. And due to the application of high temperature, the dishes cook quickly. You don't have to wait too long to serve a tasty dinner. By the way, check this out, if you want to create a well-designed menu and follow it daily.
While broiling is a fast and easy cooking method, choosing the right broiler pan might not be so. We have researched the market and carefully picked some of the best broiler pans. They are designed to withstand intense heat and serve you for years to come. Pick your broiler pan from our favorites.
Best Pick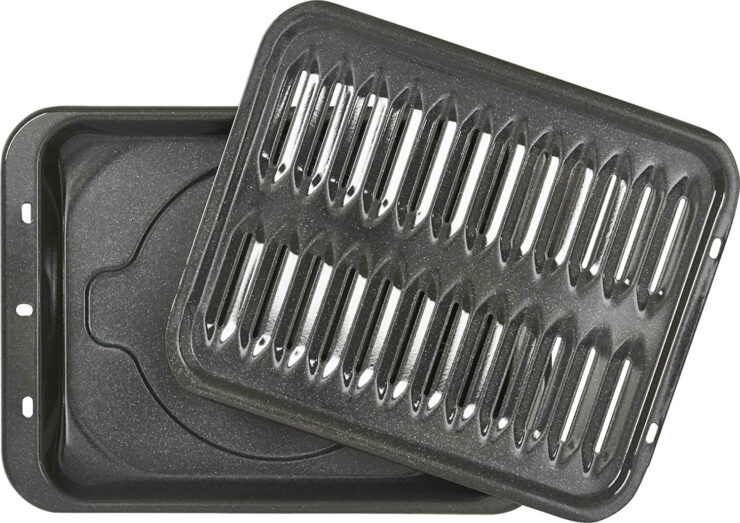 General Electric Broiler Pan speaks volumes about authenticity and quality, serving you a perfectly healthy meal every time you cook.
Budget Pick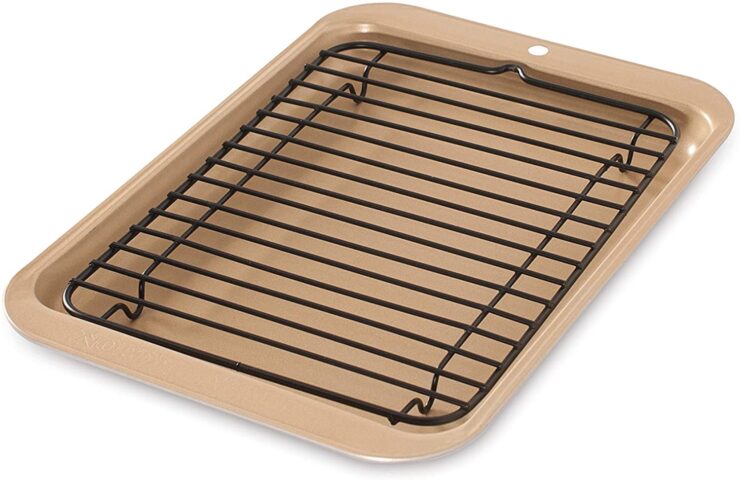 The dual broiler pan sets by Nordic Ware offer all that you might need to broil delicious dishes, within budget. It makes sure that quality is not compromised.
Quick Comparison: Top 10 Best Broiler Pan
1. General Electric WB48X10056 Broiler Pan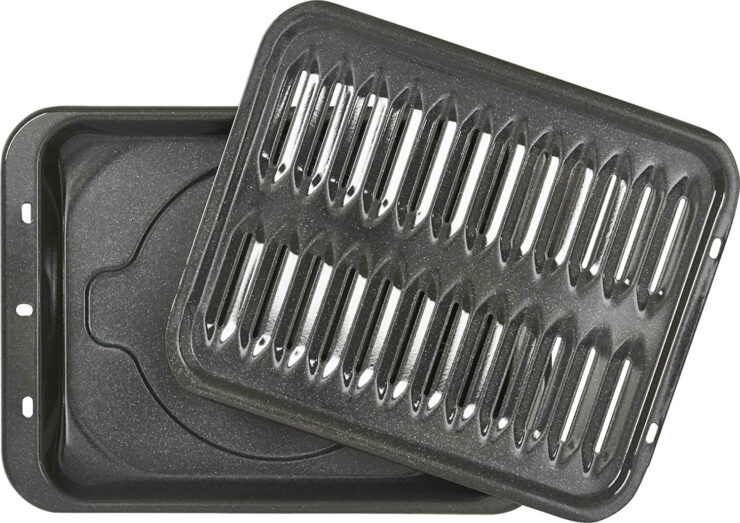 General Electric Broiler Pan is a perfect match for a large meal. If you're planning to broil a whole turkey, then you're in for luck. With a dimension of 16.75 x 12.62 x 1.37 inches, the broiler pan features a large cooking surface for the convenience of large families, parties, and busy restaurants. Despite its size, the unit weighs only 0.01 pounds, which makes it highly transportable.
The upper pan of the product features a non-stick surface. Thanks to the perforated top, the body is backed by perfect ventilation. There are vent-like slants on the top. It comes fully equipped to drain any extra fat, oil, or drippings from the meal into the lower chamber. You'll have a healthy broil every time!
The broiler pan is rounded around the edges, featuring a convenient design. Besides, you can cook without having to worry about cleaning it later. Its dishwasher-friendly construction makes sure that you don't have to spend too much time on the kitchen sink.
Speaking of construction, the broiler pan is made of enameled steel material, which translates to durability and longevity.
Pros
The product features a large cooking surface yet it's lightweight and transportable
Cooking on the pan requires very little oil, which makes it a healthy choice for everyone
With durable construction, the broiler pan is designed to last for a long time
Cons
Since the product is large, it might not be compatible with ovens of all sizes. Make sure to check the dimension of the pan with your oven for compatibility
2. Nordic Ware 42210 Toaster Oven Broiler Pan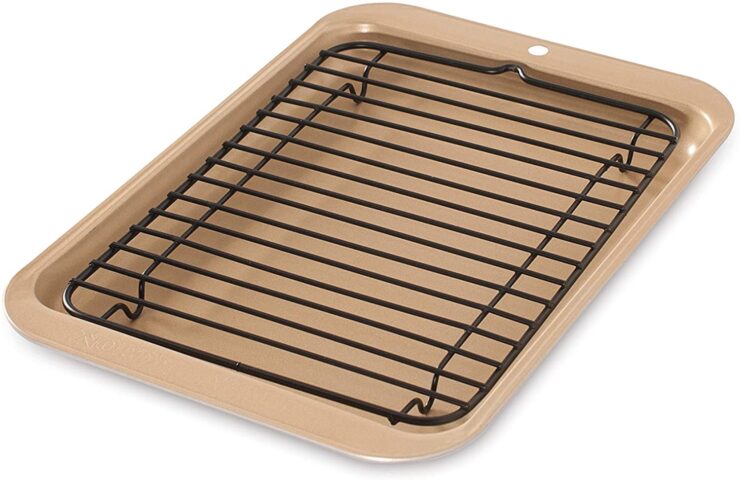 Nordic Ware 42210 Broiler Pan makes an incredible addition to any kitchen. The product comes in a very compact and lightweight body. As a result, it is highly transportable. Moreover, the pan is compatible with toaster ovens, camping stoves, and RV stoves. So don't hesitate to plan a party outdoors.
Nordic takes pride in its in-house team of designers. They have adopted manufacturing methods that have been tried, tested, and appreciated by users worldwide. The broiler pan is made of aluminized steel material. Owing to its smart construction, it features a lightweight yet durable body.
Moreover, the material allows fast cooking on the pan and consumption of very little oil. You will be able to save a ton of time while following your favorite broiled recipe on this pan. It features a non-stick surface due to which cleaning and maintaining feel like a walk in the park. Nonetheless, be sure to wash the pan by hand; it is not dishwasher safe.
Pros
The product is very lightweight and comes in a compact size, which makes it travel-friendly. It is a perfect choice for cooking in the backyard, on camping stoves, and RV stoves
The broiler pan is made of aluminized steel, offering a sturdy build and longevity
Featuring an ergonomic design, the pan is ideal for use in toaster ovens
Cons
Being of compact size, the product cannot cook food in larger quantities
3. Whirlpool 4396923 Broiler Pan and Grid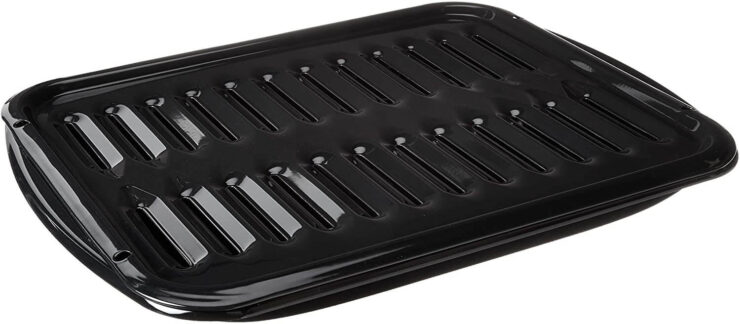 Whirlpool Broiler Pan has easily made our list of the best broiler pans due to its high-quality construction and promising service. The premium broiler pan packed with a roasting rack will make broiling so much easier for you.
The black porcelain rack and metal grid form a dimension of 1.8 x 12.5 x 16.5 inches – not too large, not too small. The size is perfect for standard-sized ovens. You can cook anything between a large chunk of meat to vegetables on this broiler pan. Don't let its thin look fool you, it is truly rugged in its service.
The rack comes fully equipped to hold food in large quantities. It also features space underneath for proper air circulation and even heat distribution while cooking. Owing to its ergonomic design, there is no smoke or splatter during the cooking cycle. So next time you host a party, you can treat your friends to a delicious meal with ease.
The material used in its construction makes cleaning and maintenance very easy. You can get rid of any grease or oil on the body with just a couple of scrubs. It is also dishwasher-safe if you don't have the energy to clean it yourself.
Pros
The porcelain finish on the product allows quick and even heating throughout the broiler pan
The cooking surface on the pan has a non-stick feature, as a result, cooking and cleaning becomes much convenient
The metal grid drains juices and oil to the lower pan, which helps prevent splatter of any sort
Cons
The product is a bit thin, which results in warping under high heat
4. Wilton Non-Stick Broiler Pan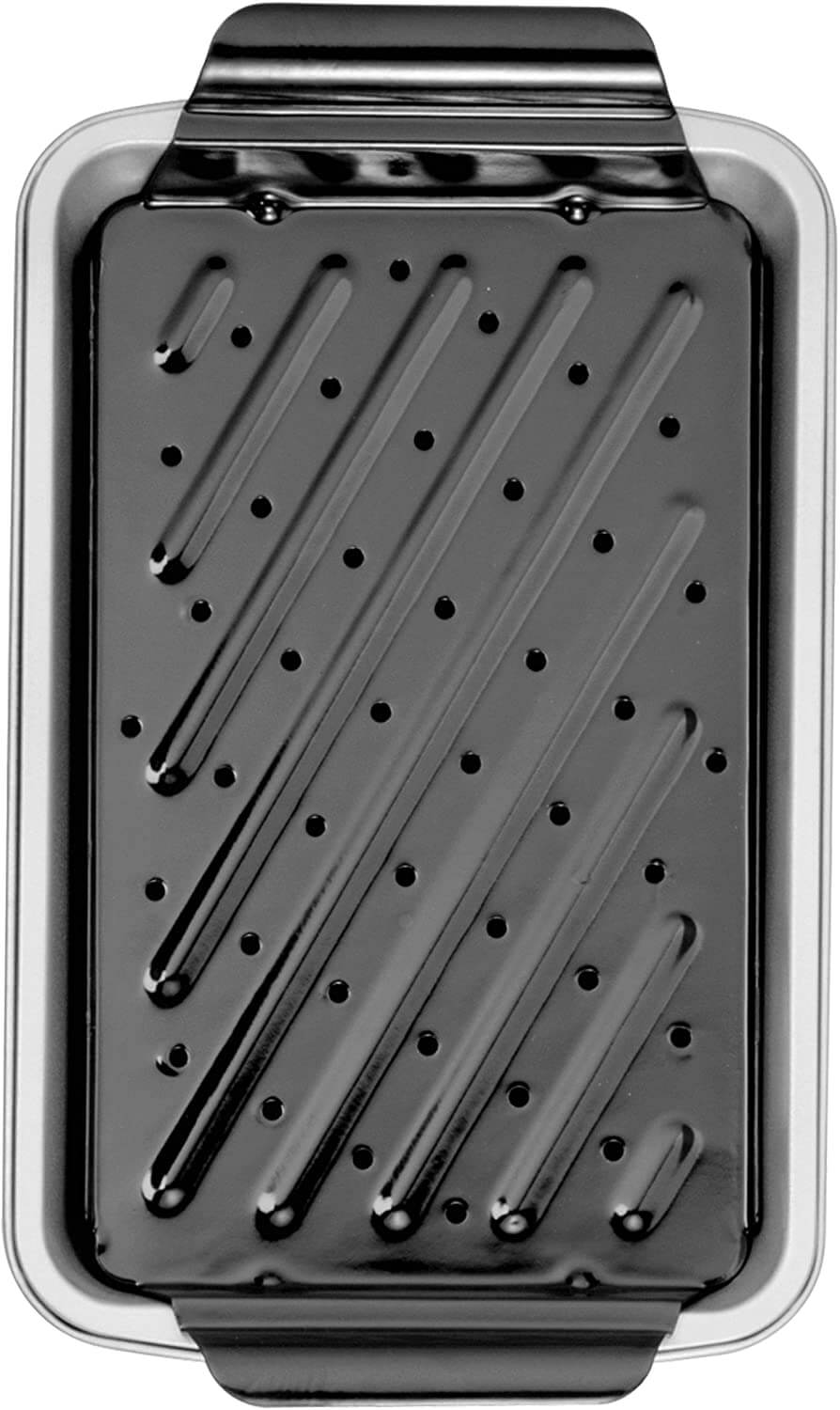 Wilton brings high-quality performance and functionality packed in a box with a two-part broiler pan. The product is made of steel, which translates to durability and smooth performance for a long time. Upon unboxing, you will find a broiler pan of a convenient dimension of 8 x 13.2 x 2.2 inches and a weight of 1.91 lbs.
The broiler pan comes in a size of 11 x 7 inches. It is just enough to prepare a wholesome meal for small to medium groups. From home cooks to professional chefs – everyone finds it very easy to use.
The unit features two sports handles on two sides of the pan to add further to its convenient construction. This makes removing the upper layer much easier than you'd expected. The upper pan also features a fair number of ridges that are meant to elevate the food's flavor and promote air circulation during broiling. You can expect crisp results at the end.
Pros
The manufacturer offers a five-year warranty on this broiler pan
The product features extra-large handles to maximize your convenience
The non-stick property of the cooking surface allows easy cleanup once you're done
Cons
The product displays a faulty finish in the bottom layer. Some users have reported rust within a few months of use
5. Range Kleen Broiler Pans for Ovens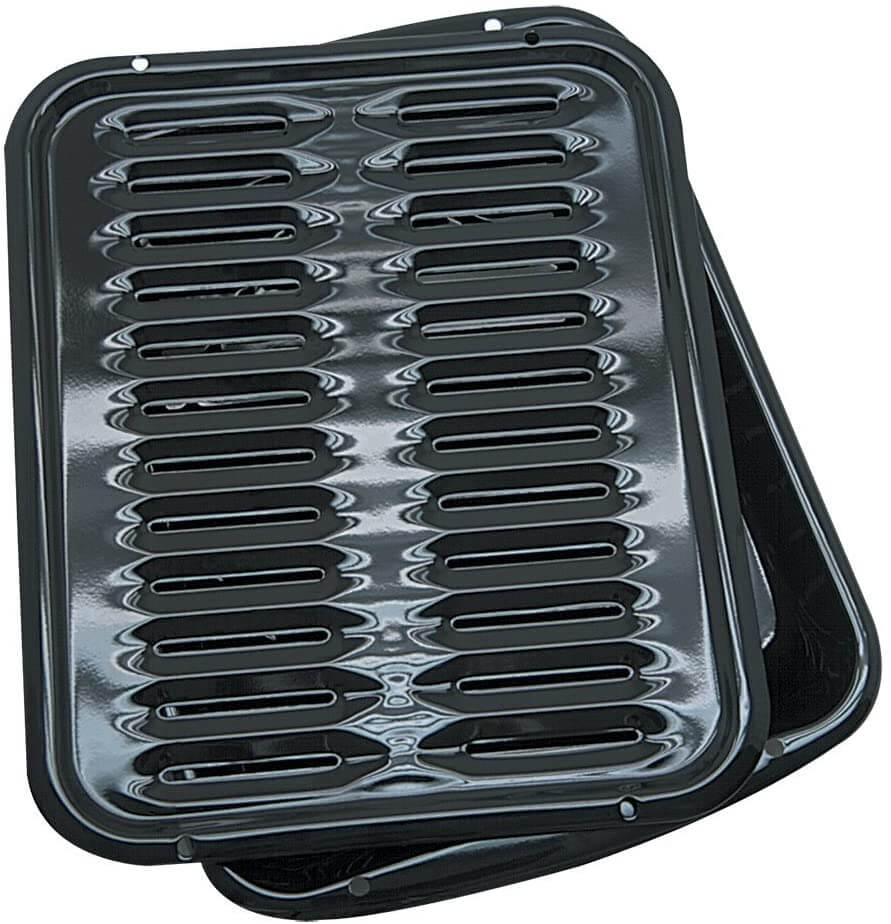 Looking for an all-rounder in the form of a broiler pan? You may be interested in this incredible offering by Range Kleen. We know we are.
The broiler pan comes in a black finish, with a highly durable upper pan stacked upon a thick base. It is made of porcelain-coated steel, offering excellent strength and longevity. We found the construction to be quite promising and we think you will too.
On top of that, the product is dishwasher safe. So you can focus all your energy on perfecting your recipe, cleaning the pan will be taken care of. The non-stick coat on the cooking surface further adds to this purpose. No grease or fat will be attached to the surface. Instead, the vented upper pan smoothly drains any additional juice or oil to the lower pan. This does not only make cleaning easier but also promises a healthy dish on your plate.
The product has an upper pan of dimension 16.5 x 12.5x 1.6 inches. It is ideal for cooking a moderate amount of fish, beef, pork, poultry, or vegetable.
Pros
Owing to its heavy-duty construction, the product can withstand heat up to 1025 Fahrenheit
The broiler pan is perfectly sized for standard-sized ovens
The pan is dishwasher safe, taking a ton of dish load off of your shoulder
Cons
Some users have raised concerns about the quality of the upper pan. It does not clean easily and the surface is likely to discolor after a few uses
6. Norpro Broil/Roast Pan Set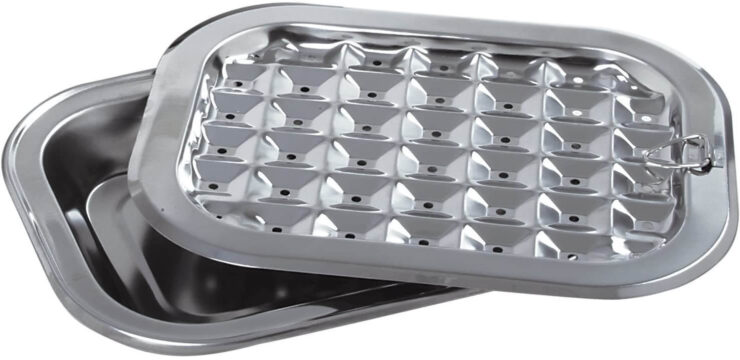 Norpro is among the most trusted broiler pans in the industry. With a commitment to safety and preservation of flavor, the broiler pan comes completely prepared to serve you any modern-day meal that you're craving.
The upper pan has a non-stick coating that requires minimal oil usage during cooking – whatever dish it may be. On top of that, any additional fat and oil on the dish will be drained straight down to the lower base. Rest assured that you're serving the healthiest meal of the day.
The non-stick feature also makes cleaning easier for busy cooks. Even if you let it sit in the sink hours after cooking, the pan will still clean quickly. So you can get things done at your own pace, no worries.
The pan is designed in a way that is meant to serve you for years. Its stainless steel construction mainly takes credit for its durability and heavy-duty performance. The polished finish adds an elegant touch to the unit. Without a doubt, this rectangular broiler pan will make a wonderful addition to your kitchen utensils.
Pros
Made of stainless steel, the product offers great strength. It does not warp in high temperature
Features a perforated top and trendy design, making it a functional yet beautiful addition to your modern kitchen setting
The coated top makes a perfect choice for people who are trying to avoid cooking on aluminum foil linings
Cons
The product is small in size; it's not an ideal choice for large groups or restaurants
7. Frigidaire 5304442087 Broiler Pan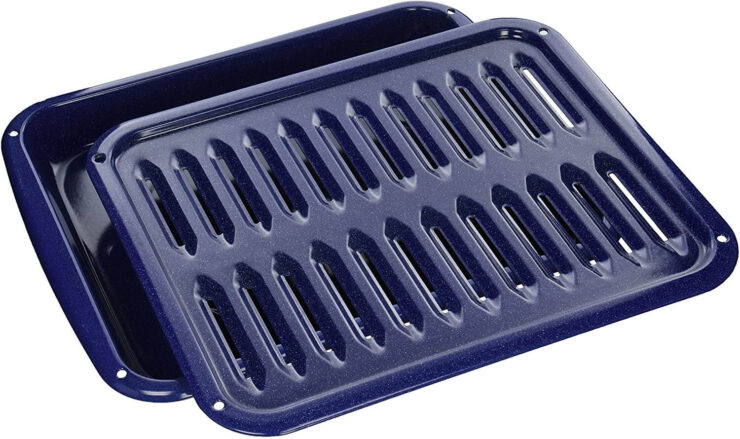 Frigidaire is a trusted name in the cookware industry and rightly so. We have closely inspected their products for quite some time, only to be impressed by their heavy-duty performance.
Although its primary function is to broil food, you can use the product to bake or roast as well. It's highly versatile and will prove to be more useful than you've initially intended.
The pan can be used in a stove, range, and of course, oven. Weighing only 2.4 pounds, it is carryable. With this pan, you can bring your party outdoors at any time.
Not just the main course but the product can also help you prepare desserts. It's very easy to bake in this unit. That is to say, the broiler pan offers versatility at its best.
Crafted with sturdy materials, the pan can facilitate intense cooking sessions for years on end. It can withstand up to 450 degrees Fahrenheit without warping to the slightest. On top of that, the manufacturer has been careful about using non-toxic materials in its construction, making it a safe choice for cooking food regularly.
Pros
The product is highly versatile. It is compatible with stove, oven, or range, making it a powerful cooking accessory
The broiler pan is available in a sleek body with an elegant blue finish
There is a non-stick enamel porcelain coat on the cooking surface, as a result of which maintaining the pan becomes much easier
Cons
The enamel surface catches scratches rather easily, you will need to use the product with caution
8. Nordic Ware Non-Stick Broiler Pan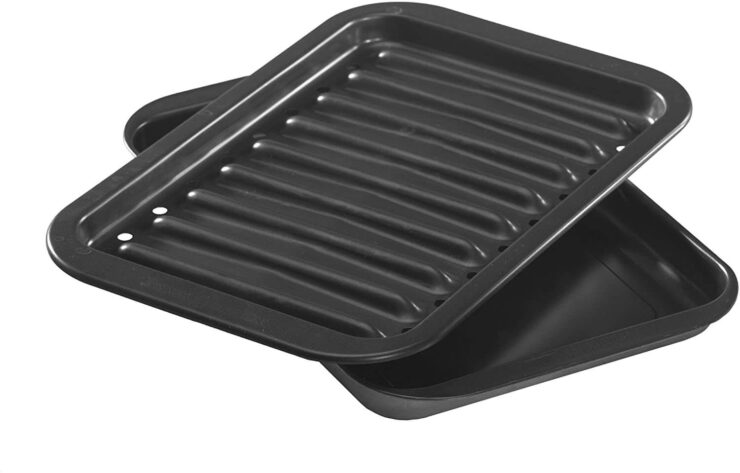 Here's another highly functional two-piece broiler pan offered by Nordic. The product has been a market standard ever since its launch. And you're about to find out why.
Measuring 15 x 10 x 1 inches, the broiler pan is ideal to fit in any standard sized oven that you might have at home. You can quickly broil vegetables, poultry or meat on the non-stick upper pan.
Drippings will be collected in the lower pan, as you'd expect from any decent broiler pan. In addition, the dripping pan can be converted into a baking pan when you're craving some dessert. Talk about versatility!
The designers and makers have put a lot of thought into bringing you a neat product, and it shows. The cooking surface comes in a convenient rectangular shape, featuring a polished black finish. This makes the pan a superb addition to your modern-day cookware collection.
Due to its non-stick property, the pan does not hold onto any oil or grease on the surface. As a result, cleaning has been made super easy. You can simply put the pan into a dishwasher, and it will come out clean. However, we suggest you scrub it anyway in order to ensure maximum safety.
Pros
The product is equipped for both broil and bake function
The pan has a non-stick top for offering ease of cleanup
The pan is supported by a strong drip tray that collects excess oil, fat, and juice
Cons
The upper pan features only a few holes, which sometimes clogs drainage
9. Smart Choice Basic Broiler Pan  

Smart Choice Basic Broiler Pan definitely does justice to its name. The product's minimalistic design does not show it, but you'll realize how efficient it is as soon as you begin to broil on the pan. The dual layer broil pan can be converted into a single tray for easy roasting and baking. Its heavy duty construction will still take on intense heat.
From appetizers to desserts, you'll be able to prepare all kinds of dishes on this broiler pan. No matter what you put on the pan, it will ensure that heat is evenly distributed throughout the dish. Expect nothing but delicious food on your plate.
As for the size of the broiler pan, it is compact and fits in almost any oven. As it takes up very little space, it is easy to store. Weighing only 3.5 pounds, the product is travel-friendly.
The upper pan features dense vents, which makes way for effortless air circulation. Drippings are easily drained down as well. Therefore, you are left with a healthy dish in rich flavor and perfect crisp.
Pros
Made of metal, the broiler pan features even heat distribution allowing fast cooking
Its versatile functionalities allow the broiler pan to be used for baking and roasting as well
It is compatible with almost all ovens
Cons
The upper tray does not feature any handle, making it a bit of a challenge to lift
10. Wilton 47520219 Non-Stick Broiler Pan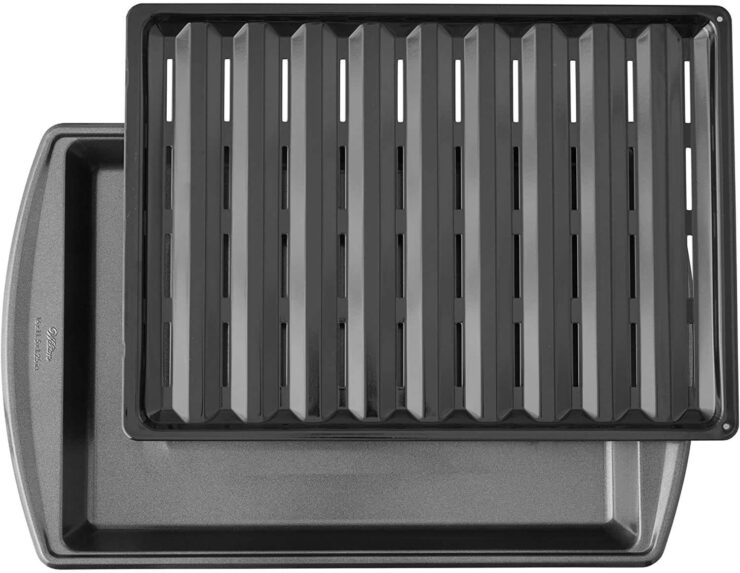 With a heavily ventilated upper pan, Wilton Non-Stick Broiler Pan will serve you just right. As far as functionality is concerned, the pan is an industry-standard. You can cook dishes of any sort and quantity on the broiler pan and expect nothing but great results.
The broiler pan is 17 inches in width, making it ideal for cooking large chunks of meat or an entire turkey. It is made of heavy gauge steel, topped with a non-stick cooking surface and gunmetal finishing – a perfect combination for broiler pans.
Moreover, it features a powder coat finish to ensure safety and health for users. Owing to this construction, the pan is relatively easy to maintain even after heavy usage.
If you want to avoid the hassle of cleaning, the broiler pan bears good news for you. It is dishwasher safe. And if anything goes wrong during your experience with the product, the manufacturer offers a lifetime limited warranty to ensure that the issue is being taken care of.
Pros
The upper pan features two extra-large handles for your easy lifting of food
The manufacturer offers a five-year warranty on the product
Packed with practical functionalities, the broiler pan offers excellent value for your money
Cons
Weighing 4.9 pounds, the product is heavier than most of its competition. So if you're looking for a transportable broiler pan, this might not be the right choice for you
Things to Consider Before Buying Broiler Pans
What is a Broiler Pan?
Broiler pan, also known as broiler roaster or oven broiling pan, is a kitchen utensil that helps broil a wide range of foods from steaks and poultry to vegetables. Most broiler pans come in two parts – upper pan and lower pan.
The upper pan comes with a slotted base to accommodate your food. This is where the food cooks. The dripping juice from the food gathers at the base and drains to the lower pan, placed underneath.
The upper pan has minimal openings. As a result, the dripping caught in the lower pan does not flare up and burn the food.
Many people confuse a broiler pan with a roaster. But the two-layer construction sets broiler pans apart. There is no lower base in roasting pans to drain the juice to, the food cooks in its own drippings.
Why Purchase a Broiler Pan?
The benefits of broiler pans are manifold. Not only does it save your time, but you can also achieve the perfect crisp in your dishes. The pan is versatile, which allows you to roast chicken, prepare steaks, fish, meat, or vegetables.
A major advantage of using broiler pans is that they are available in various sizes. So you can pick a pan that is convenient for your family. This offers a great deal of choices for bachelors and large families alike. And the best part is that broiler pans are affordable cookware. They offer a lot without costing a fortune.
Moreover, it does not require much cooking oil when cooking on broiler pans, sometimes none at all. So you'll be preparing dishes that are healthy as well as cost-effective. And since they cook fast, you can avoid the hefty monthly fee on electricity due to excessive usage of the oven.
Broiler pans, being made of two layers, are designed to separate excess fat from the food. You can prepare a healthy and flavorful dish with minimal effort. This cooking method speeds up the process. And the layered construction helps reflect heat evenly throughout the pan, serving you a perfectly cooked dish within minutes.
If you're dealing with tender meat chunks like thinly sliced steak or chicken strips, grilling them might result in tearing or burn. Not such is not the case for broiler pan. You can expect neatly cooked meat on both sides, that too, without having to toss and turn it over and over again.
Broiler pans are typically made to withstand high electricity. So you can expect the products to cater to your needs for years on end. You won't be forced to replace the piece. All in all, broiler pans offer excellent value for money. You just need to pick the right one.
How to Buy the Best Broiler Pan?
Size of the Pan 
If you know what you're going to cook and how many people to serve, make sure the food fits the pan. Size is a significant consideration for two reasons.
One is that your broiler pan will go straight into the oven. So you need something that is compatible with your oven size. Some pans are large to the extent that they do not fit into a standard sized ovens. Always make sure to check the dimension of the product before you confirm an order.
Secondly, choose a broiler pan that offers the capacity you need. Smaller broiler pans will not be able to prepare meals in large quantities. On the other hand, if you're planning to cook just for yourself regularly, a large pan might not be a convenient addition to your kitchen.
Maintenance 
We love a good meal. But don't you dread what comes afterward? Cleaning dishes can feel like a hassle, especially after a long day at work. If you don't want the broiler pan to further add to the dread, you might want to pick a dishwasher friendly pan.
Keeping the pan clean is vital for serving a safe dish the next time. Most broiler pans these days claim to be dishwasher friendly. Despite the claim, it is ideal to scrub and wash the pan by hand every once in a while.
Versatility
The design of the broiler pan speaks volumes about the type of dishes that it can prepare. One of the most important considerations while buying a broiler pan is its purpose. Some pans can be very particular in what they cook, while some are very versatile. So before you confirm purchase, ask yourself, "what do you need it for?"
Traditional broiler pans were mostly used to cook beefsteak. Some broiler pans are only suitable for cooking meat, while others will only prepare a snack for you. And then there are pans that can prepare pretty much anything.
If you're planning to cook meat most of the time, then you should opt for pans that come with a grill-style rack. Also, pans that feature grates with wide slits are ideal for meat recipes.
On the other hand, if you follow a vegetable menu, you may find a great use for pans with a wide surface on the upper rack.
Construction 
Not all pans are made the same. So naturally they will not retain flavor, heat or reheat equally. You don't want a poor quality broiler pan to waste your time and money, so construction and material are vital considerations.
The best broiler pans are made of heavy-duty materials, engineered to sustain high heat for a long time. Among the most common materials used for broiler pans are stainless steel, ceramic, and anodized aluminum. Cast iron and steel broiler pans have also gained popularity over the years.
You want to invest in a pan that features a non-stick surface. This will make cooking much convenient for you. Your pan should be resistant to corrosion and able to withstand premature tear or wear. Moreover, it is much easier to clean a non-stick pan. As food content or grease cannot stick to the pan's surface, scrubbing them feels like a breeze.
Frequently Asked Questions
Why use a broiler pan instead of a regular pan? 
Broiler pan exposes food to direct heat. The flames produce a high temperature, cooking the dishes much faster than any regular pan. As opposed to a regular pan, broiler pans are built to withstand the heat necessary for broiling and never fail to deliver a healthy outcome. Moreover, you can achieve a crispy crust in your recipe due to the broiling pan's unique construction.
How long should I broil for? 
Since broiling exposes your food to direct heat, the process needs to be supervised closely. The time taken to broil a particular food depends on its nature and thickness. But generally speaking, you should not broil a dish for more than ten minutes. Otherwise, it may lead to food burn, even fire.
Since your food will receive direct exposure to heat, make sure to arrange them in a single layer. This will result in the perfect browning and even temperature in all parts. However, each oven is unique and might call for some trial and error before perfecting a recipe. We suggest you use an oven thermometer for maximum convenience. It can help you monitor your dish even when it's broiling.
Is it safe to put non-stick pans under the broiler? 
Traditional non-stick pans were not compatible with broilers as the heat would ruin the coating. High temperature would soon damage the pan. However, most modern non-stick pans, including Teflon coating, have progressed to take on higher temperature. So long as the temperature inside the oven remains under 500 degrees Fahrenheit, your non-stick pan will be safe.
Conclusion
A broiler pan is a great choice for preparing healthy meals with minimal oil and fat. It has become an essential cookware for people who want to enjoy hassle-free cooking that results in a delicious platter.
Considering size, construction and performance, we have picked and reviewed some of the best broiler pans so you can have a wholesome shopping experience.